Arms, Mario Kart 8 Deluxe, Splatoon 2 et même 1-2-Switch. Sans oublier Pokémon Soleil et Lune.
☆ Gazette NintendObs – lundi 26 juin 2017 – dimanche 2 juillet 2017.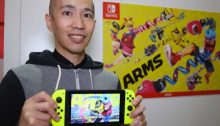 Publié le 30 juin 2017

Incontournable pour les amateurs de jeux vidéo, le stand Nintendo vous attend avec des tournois, des cadeaux, des nouveautés et d'autres surprises !

ARMS

Nintendo frappe fort avec sa nouvelle licence, le jeu de combat ARMS. Des tournois sont organisés tous les jours avec des Nintendo Switch et des jeux ARMS à gagner pour les vainqueurs. Pour participer, rendez-vous sur le stand (B668, hall 6) !

Kosuke YABUKI © TDR

Vendredi, un invité très spécial, Kosuke YABUKI, le producteur de ARMS lui-même, remettra son prix au vainqueur.

Kosuke YABUKI vous donne aussi rendez-vous en dédicace sur le stand Nintendo vendredi à 15h00.

Splatoon 2

Participez aux tournois Splatoon 2 organisés chaque jour sur le stand et tentez de remporter des jeux Splatoon 2 et des Nintendo Switch. Pour participer, rendez-vous sur le stand !

Une animation cosplay Splatoon 2 vous attend tous les jours à 11h00, vêtu de votre plus beau cosplay Splatoon pour tenter de remporter un jeu Splatoon 2 pour Nintendo Switch.

De nombreux autres tournois

Les tournois Mario Kart 8 Deluxe attendent les as du volant, entre mode bataille et courses traditionnelles. Rendez-vous tous les jours sur le stand Nintendo pour vous lancer dans la course. Les vainqueurs remporteront des jeux ARMS et des Nintendo Switch.

Des tournois Pokémon et 1-2-Switch sont aussi au programme : rendez-vous sur le stand Nintendo pour participer et gagner des cadeaux !

The Legend of Zelda: Breath of the Wild

Et ne manquez pas la masterclass The Art of The Legend of Zelda Series, avec l'invité d'honneur jeu vidéo du festival, Eiji AONUMA, producteur de The Legend of Zelda: Breath of the Wild, qui est accompagné de Satoru TAKIZAWA, directeur artistique du jeu, et Yusuke NAKANO, illustrateur de la "Bataille de Ganon". Vendredi à 12h30 sur la scène Ichigo.

Source : Japan Expo Paris.
Chez NintendObserver, les commentaires sont sur Discord.
Cliquez sur Community pour en savoir plus. 🙂
…
…C'est pour jouer ? Achetez une Switch.
Et si vous l'avez déjà, ici se trouvent tous les jeux déjà disponibles sur la console. 😀