"We are a French team and instead of mimicking an art style of Japanese creators, we wanted to embrace our own."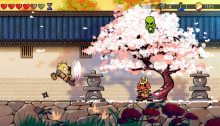 Interview: Transforming Wonder Boy: The Dragon's Trap for Nintendo Switch

Read our interview with Lizardcube for your chance to win a free copy of Wonder Boy: The Dragon's Trap.

18/05/2017

Wonder Boy: The Dragon's Trap is out now on Nintendo Switch and has already proved to be a big hit with fans and critics alike for its lovingly detailed remake of Westone's 1989 game Wonder Boy III.

If you're yet to experience its beautiful animation and timeless platform gameplay then have a read of what to expect, straight from Ben Fiquet (artist) and Omar Cornut (designer) at Lizardcube.

Nintendo UK: Of all the games in history that you could choose to remake, what inspired you to pick Wonder Boy III: The Dragon's Trap?

Ben Fiquet: It is a game very to dear to us both. It kind of started as a fan project with no real idea of its feasibility. We didn't really think about it and dived right into it, so the question would have been, "Why not?"

Omar Cornut: We love Wonder Boy III and we know it had many fans across the world. In the UK and France in particular the old SEGA consoles fared pretty well, so the game is known to players of our generation and we thought it'd be great to bring it back to them and to younger generations. Old video games do not always age well, but the gameplay of The Dragon's Trap is quite timeless. With all its secrets it was always a game that carried an aura of mystery, which got many people obsessed about finding all its secrets back in the day!

NUK: Out of all the Wonder Boy/Monster World games that were made, what do you think makes The Dragon's Trap so special?

OC: It was rather innovative for its time. It combined the sense of exploration of games like the earlier Metroid and The Legend of Zelda games, with a fully fleshed out world and many recognisable characters.

BF: I think the world of Monster Land is so rich and vibrant. The ability to transform the main character, visit colourful parts of the world and for its time, a sense of an open world… Players are almost instantly drawn to it.

NUK: Your approach to this remake is very ambitious, with sumptuous animations and all-new music. What inspired you to try something so bold?

BF: For me, as I started doing the art of the game, it wasn't really much of a conscious decision, I just went for what I felt was right. It's not a traditional look for a videogame, but I come from a background of working on comics and animation. I tried to have a look that I think fit the game. I always loved traditional animation, like Dave Perry's games from the Mega Drive era but also the drawing style of comics.

OC: We wanted to take advantage of what we are good at. We are a French team and instead of mimicking an art style of Japanese creators, we wanted to embrace our own. For the music, composer Michael Geyre is personally interested in so many styles that he went in many directions. It was possible because the game has those very different locations. I think we have a rather unexpected soundtrack with a lot of variety; we've got bits of Egyptian folk, gypsy guitar or even tango, along with more traditional chamber orchestra style.

NUK: Though players can switch to the original game graphics and sound at any point, you did make some small changes to the game design. Can you talk about what these changes were and why you felt it was best to change them?

OC: We tested the remake on many players and tweaked it based on their reactions. For example, buying equipment in the original wasn't a very satisfying experience. You had to grind for charm stones and it didn't give any indication of what items do. We removed the charm stone system as pretty much all players of the old and new versions agreed it was more annoying than anything! Adding the items description and discussions with the shopkeeper and nurse characters also helped flesh out the world and add an element of comedy. We also added extra hints to guide the player but we didn't want them to appear too soon or be too obvious. At heart this is a retro game, it drops you in the world and it is part of the enjoyment to figure things out by yourself. So all our changes were made cautiously from the angle of not altering the spirit of the original.

NUK: Similarly, many parts of the original game feature blank backgrounds or no original music. How did you go about creating art and music from nothing without breaking the coherent style of the game?

BF: Well, the good thing with remaking this game is that the original was quite limited graphically. I could reinvent big parts of the backgrounds because there was literally nothing but a plain colour. But some parts already had a personality and working on those parts helped me aim towards a coherent style. It can be a little tricky sometimes and I took some liberties but overall, I wanted to stay true to the original feeling.

OC: It's interesting to remember that old games weren't so concerned with being realistic. In The Dragon's Trap, you open a door in the sky and end up in the desert. And of course we've got floating platforms everywhere! Nintendo games for example are great at embracing this magic, which I think is a strength for games. So Ben created locations that are sometimes a bit crazy and surreal because this is how the game was.

NUK: Did any of the original developers at Westone become involved in the remake?

OC: Yes! Original Wonder Boy creator, Ryuichi Nishizawa is the first person we contacted about the remake in 2014. We came to him with a prototype and a bunch of art research that Ben had created. He supported our vision and totally put his faith in us.

NUK: What's your perception of how the remake has been received by fans and general gamers? Are you happy with the reaction?

BF: The reaction so far has been amazing! Players are really feeling all the love we have for the game and all that we've put into it. I think they are happy to be able to relive their cherished game, or to play something different. We've had amazing fan art from all around the world and a lot of kind words. It's an amazing feeling!

NUK: If anyone reading this has never played The Dragon's Trap before, what would you say to convince them to give it a try?

OC: It's a very enjoyable game even today and I think the retro features really help put it into context, imagining how games felt in the 1980s. Like The Legend of Zelda, it's a game that lets players figure things out for themselves. Of course, The Dragon's Trap is a simpler and shorter game, which also means it is a game everyone in the family can play.

NUK: What's next from your team? Is there another dream remake you'd like to create or something entirely original?

BF: Well it's still way too early to tell. I'd love to be able to work again on some forgotten licenses but also make something totally new. We're going to try to relax a little bit and figure out what the future might hold for us!

OC: Personally one of my dreams would be to work on a remake of The Legend of Zelda or Zelda II: The Adventure of Link.

— Nintendo UK News
Source: Nintendo UK.
At NintendObserver, the comments are on Discord.
Click on Community to learn more. 🙂
…
…Wanna play? Buy a Switch.
And if you've already got yours, click on Wonder Boy The Dragon's Trap for everything you need to know about the game. 😀