3DS sales had a 10% year-on-year increase thanks to the synergistic effect of Pokémon Go on Pokémon franchise titles.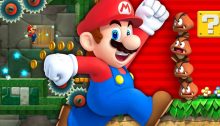 During the nine months ended December 31, 2016, the worldwide release of Pokémon Sun and Pokémon Moon generated buzz and led to blockbuster sales of 14.69 million units. In addition, Super Mario Maker for Nintendo 3DS surpassed the million-seller mark. The release of the smart device application Pokémon GO led to increased sales of software in the Pokémon series released in the past and drove Nintendo 3DS family hardware sales growth, particularly outside of Japan. The worldwide sales volume for Nintendo 3DS hardware this period was 6.45 million units (10% increase on a year-on-year basis), while Nintendo 3DS software sales were 46.78 million units (20% increase on a year-on-year basis).

On the other hand, for the Wii U console, we planned to ship 0.8 million units this fiscal year, based on our forecasts of comprehensive demand for Nintendo hardware. Activity has conformed to our expectations from the start of the fiscal year, with hardware sales volume of 0.76 million units (75% decrease on a year-on-year basis) and software sales volume of 12.48 million units (45% decrease on a year-on-year basis).

On the smart device front, we released Super Mario Run, a new action game featuring Mario, in 150 countries and regions on December 15 (Pacific Standard Time). This title elicited a fantastic response, surpassing 40 million downloads in four days after the release.

The Nintendo Entertainment System: NES Classic Edition also launched in Japan and overseas in November to widespread popularity. Although the release of some new titles offering amiibo functionality restored some momentum, amiibo sales remained limited to 6.5 million units for figure-type and 6.6 million units for card-type. In addition, there were relatively fewer offerings of downloadable content during this period, so digital sales were also down to a large extent on the same period last year.

Along with this background, resulting in an operating income of 26.3 billion yen against net sales of 311.1 billion yen (of which overseas sales were 221.3 billion yen or 71.2% of the total sales). We have also included 16.7 billion yen of share of profit of entities accounted for using the equity method related to The Pokémon Company and other investments, resulting in an ordinary income of 49.1 billion yen. In addition, due to the sale of part of our equity in the company that manages the Seattle Mariners Major League Baseball team, we recorded gain on sales of investment securities totaling 63.5 billion yen as extraordinary income, meaning that profit attributable to owners of parent was 102.9 billion yen.

Source: Nintendo JP.
At NintendObserver, the comments are on Discord.
Click on Community to learn more. 🙂
…
…Wanna play? Buy a Wii U.
And if you've already got yours, here are all the games already available on the platform. 😀