Animal Crossing for smart devices has been pushed back to the next fiscal year.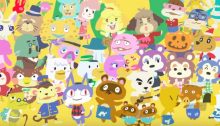 We will launch Nintendo Switch, a new home gaming system that diversifies the ways you can play video games, on March 3, 2017 in Japan and overseas. Our launch lineup includes first-party software such as The Legend of Zelda: Breath of the Wild and 1- 2-Switch as well as strong third-party titles. The Legend of Zelda: Breath of the Wild will release for Wii U on the same day.

For Nintendo 3DS, we aim to maintain the buzz surrounding the hit titles Pokémon Sun and Pokémon Moon and Super Mario Maker for Nintendo 3DS, as well as releasing new titles such as Mario Sports Superstars.

For smart devices, we plan to release the game application Fire Emblem Heroes on February 2. We will also follow last December's release of Super Mario Run for iOS with an Android version in March. To accommodate the releases and operation of these applications, we have revised the release schedule for Animal Crossing, which we had originally planned to release during this period. This title will be released during the next fiscal year.

We have revised the financial forecast originally published on October 26, 2016. For details, see the Notice of Full-Year Financial Forecast and Dividend Forecast Modifications issued today (January 31, 2017).

Source: Nintendo JP.
At NintendObserver, the comments are on Discord.
Click on Community to learn more. 🙂
…
…Wanna play? Buy a Wii U.
And if you've already got yours, here are all the games already available on the platform. 😀