"Everyone in the development team, from directors, programmers, project managers, designers all the way to the sound team joined in to record the chorus."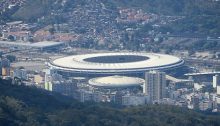 Monday Jun 27, 2016

Hello, everyone. This is Ohtani again, the sound director of Sonic series.

This is entry number 2 of the Mario & Sonic at the Rio 2016 Olympic Games Sound Director interview, with sound directors Mr. Nakagawa and Mr. Tokoi, if you haven't read part 1 yet, visit the link here!

Main Theme

Ohtani: I wanted to talk about the main theme, in the previous Mario & Sonic series the main themes were more orchestral themes but in Mario & Sonic at the Rio 2016 Olympic Games, the main theme has a very distinctive samba rhythm. I felt it was very impressionable and memorable. How did the idea occur to you?

Tokoi: When I started working on the music, I did a workshop with our team members and we discussed what sort of sound would work for this title.

O: I remember you were watching a lot of samba videos while brainstorming with everyone.

T: The important point was that it's not a complex melody, and that it should be uplifting, light beat that you can imagine Rio from. The latter parts we focused on speed and momentum. I usually make the total code and melody first, and then I start implementing details. I tend to start with the main rhythm or bass, but this time I started to compose a melody for the piano. I composed the total structure of the song at first and added other elements gradually. Finally, I arranged the tune in the late stage of the compositional process. I decided to add the solo part of Bateria after I discussed with our team members.

O: It helps set the tone of the song with a very impressionable intro.

Plenty of Brazilian tones during the events, even for Mario?

Nakagawa: In the 3DS version of Mario & Sonic, there are Olympic Game events mode where you can enjoy the events like you would in the Olympic Games and Plus events mode where you can enjoy each events with a bit of a special gimmick. In the Rhythmic Gymnastics, we used the main theme from Super Mario Bros., which is very recognizable. We've arranged that theme to Brazilian music as well, and it comes in two different types of events, Olympic Games and Plus event.

O: The main theme of Super Mario Bros. with a Brazilian twist, interesting.

N: In this game, you can play as your Mii and even change the costumes of the Mii and there's special power ups for each events. Like for the costumes during Rhythmic Gymnastics, we put in some Brazilian instruments here and there, like for the button press sound effects. I hope everyone enjoys the bits of Brazilian elements we've put in.

O: That sounds fun!

N: Football (Soccer) is one of the popular Olympic Games events, and we had Mr. Otani take over the music for that.

O: Yes, I composed the songs for Football and 100m. I received a request to put in more of the Brazilian feel too, but also to make it more fully competitive. So instead of composing a more of a major key of fun and bright song, I made it more of a minor key to draw out the tension.

N: Yeah, I think you got the Brazil feel down.

O: I'm glad to hear that! With Football, I tried to emulate the stadium feel by adding chorus, like fans chanting in the crowds. So everyone in the development team, from directors, programmers, project managers, designers all the way to the sound team joined in to record the chorus.

T: Thanks to that, the stadium sounds awesome in the game.

O: We should've taken photos when we were recording. You can hear the chorus when your team is doing better than the other team.

T: The chorus comes up when you make a goal too.

N: Yeah, it's really fun and has that uplifting Brazilian vibe when it comes up.

O: When you make a goal, the song changes from this minor key to a real party.

T: It's so contrasting, it's great.

O: Maybe because of this, it didn't feel like I made one song for an event, but several parts for what's happening in game.

Dynamic BGM

N: We've implemented dynamic BGM before in Mario & Sonic games, where depending on the situation of the game the music changes. It's now a standard in this title. My favorite is Boxing, as the situation ramps up it gets intense. I hope the change in music comes natural. I made some sound effects to get the viewers excited as if they're in the ringside and they're gradually getting into the event, like having them sound like they're counting down when your character is down in the ring. I owe a lot to the programmers for implementing everything but it was fun trying a lot things.

Messaging

O: I think it's time to warp up this interview; do you have any messages you'd like to leave our readers with?

N: I put in a lot for this recording. I received a lot of support, not only the musicians in Rio de Janeiro but many talented musicians in Japan as well. I think we had over a hundred talents supporting and thanks to them we feel the music is very unique and retains its Brazilian atmosphere. I hope everyone enjoy the game itself and the music while they're playing!

T: I hope you enjoy the exciting events of the Olympic Games in Rio. We tried to create a music experience so that you could enjoy the atmosphere of Rio de Janeiro like we did. I hope you enjoy the fun, uplifting sounds.

O: I think this is one of the more distinctive Mario & Sonic soundtrack yet! Thank you very much for your time.

N & T: Thank you.

I hope you enjoyed the 2-part sound director interview. Be sure to check out the photos available! There's a lot of passion and care that was implemented in Mario & Sonic's music, just as much we put into our Sonic series. We hope you enjoy our Brazilian feel sounds with our latest title Mario & Sonic at the Rio 2016 Olympic Games! We're looking forward to doing more of these special entries from time to time, so we hope you can check us out then!

— soaadmin at SEGA
Source: SEGA Blog.
At NintendObserver, the comments are on Discord.
Click on Community to learn more. 🙂
…
…Wanna play? Buy a Wii U.
And if you've already got yours, click on Mario & Sonic at the Rio 2016 Olympic Games for everything you need to know about the game. 😀