Disney Art Academy is now available in Europe and in every region.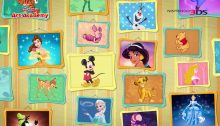 In shops and on Nintendo eShop now: Disney Art Academy

Learn to draw more than 80 Disney and Pixar characters with step-by-step lessons.

Version française ici : Disney Art Academy est arrivé en boutique et sur le Nintendo eShop ! 😉

15/07/2016

Master the art of drawing beloved Disney and Pixar characters in Disney Art Academy, out now only on Nintendo 3DS family systems! By setting your own pace through multiple easy-to-follow lessons, characters like Mickey Mouse, Nemo from Finding Nemo, Elsa from Frozen, Buzz Lightyear from Toy Story and Simba from The Lion King come to life on your Nintendo 3DS! Get inspired at our official Disney Art Academy website.

In Disney Art Academy, you'll use the Touch Screen and stylus to create stunning drawings of all your favourite Disney and Pixar characters! The stylus becomes your paintbrush, pencil, marker and more, allowing you to build up layers to develop all sorts of cool-looking effects and realistic textures. There are more than 80 characters to draw, from classic stars like Mickey Mouse and Winnie-the-Pooh through to modern favourites like Elsa and Woody.

Discover 40 lessons inspired by Disney artists, designed to take you from amateur to expert! Each lesson guides you through a step-by-step progression to draw a single character. What starts as a series of lines and shapes will gradually evolve into a familiar character using your new art skills! Even better, all the artistic skills you learn can be used in real-life too!

If you want to create outside the game's numerous lessons you're in luck, as Disney Art Academy includes a Free Paint mode that lets you draw even more characters any way you choose. In Free Paint mode you can have fun painting whatever you like, whenever you like! With over 80 pieces of character artwork to use as a reference, plus the full range of tools and materials at your fingertips, it's easy to bring the stars to life!

You can even add some extra flair with the magic brush, a new addition to the Art Academy series. With the magic brush, magical additions like stars, bubbles, and glitter can be added to your masterpieces – all easily accessed by using the Touch Screen. It couldn't be simpler to sprinkle a little Disney stardust on your creations!

As your art skills improve and you create more and more Disney and Pixar characters, you may very well want to share your creations with others. That can easily be accomplished directly in the game by connecting to the internet and sharing through Miiverse or social media via the Nintendo 3DS Image Share service.*

Learn to draw more than 80 Disney characters and show off your creations with Disney Art Academy, out now only on Nintendo 3DS family systems.

Disney Art Academy is available from shops and as a downloadable version from Nintendo eShop now, only on Nintendo 3DS family systems.

Please note: your Nintendo 3DS family system must be connected to the internet to use Miiverse or the Nintendo 3DS Image Share service.

— Nintendo UK News
Source: Nintendo UK.
At NintendObserver, the comments are on Discord.
Click on Community to learn more. 🙂
…
…Wanna play? Buy a 3DS.
And if you've already got yours, click on Disney Art Academy for everything you need to know about the game. 😀