Miis from Miitomo and Tomodachi Life are distinct from the ones played in games like Smash 4 and Mario Kart 8. 
☆ NintendObs Weekly – Monday, July 4, 2016 – Sunday, July 10, 2016.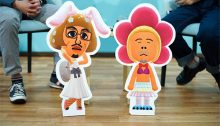 Part 3: Two Mii

Itoi:

Now we are going to switch to talking about "Miitomo", but the environment in "Miitomo" is very different.

For Nintendo to run a game on a platform that isn't a device strictly for gaming is, I think, a first for the company. Discussions about things like what the team would be like and who would participate must have been going on while Mr. Iwata was there.

Sakamoto:

Yes.

Within the company, the decision was made to develop software for smart devices.

And the director and I were called up from the "Tomodachi Collection" team. I think that Mr. Iwata and Mr. Takahashi (Shinya Takahashi, General Manager, Software Planning & Development Division) had already discussed who the members would be.

Itoi:

Mr. Sakamoto, when were you called up?

Sakamoto:

About 2 years before the launch of Miitomo.

Itoi:

At the time, people all over the world were incessantly asking why Nintendo wasn't making smart phone games.

At the time when Mr. Iwata said that we had not ruled out doing something like that, we were already doing research.

Sakamoto:

Yes.

Itoi:

And Mr. Sakamoto, you were on that research team.

Sakamoto:

I joined as the research team had started to make their ideas take shape to a certain extent.

At around that time I and the director of "Tomodachi Collection" had been thinking of whether there were any new possibilities in using Mii characters for communication.

More specifically, we thought it would be nice if there were some sort of communication system on the 3DS that kids could enjoy . We had shown that around, so then we ended up participating in the team.

Itoi:

I think that up until now Nintendo in general has never created games that kids cannot play.

It's not that the games are meant for kids, but they have created games that kids and adults can play.

However, in general elementary school kids don't have smart phones.

Were there discussions about that change in perspective?

Sakamoto:

As we were looking into the possibilities for communication through Mii characters, we discussed if Mii characters could surpass the bounds of game platforms and work anywhere. And we talked about how if Mii characters could surpass those bounds, then we could try using them on smart devices.

As you said, when you are making something for smart devices then the focus might shift away from making something for kids, but then the flow of the discussions went into how we could make something that was in a more spacious area than ever before.

Itoi:

Ohh, I see.

Sakamoto:

For example, the Mii in "Tomodachi Collection" were behaving freely within the 3DS, but we discussed how on a smart phone they could do different things.

In other words, Mii characters hold within them the possibility that comes with not choosing a place.

Itoi:

I see.

The Mii characters themselves are at the core of the content.

Sakamoto:

Yes.

Itoi:

"Wii' and "Mii" appeared as homophones of "We" and "Me," and I feel like this is a subconscious way to discuss the self indirectly, and I feel that we did a very important thing by doing this.

For example, if a picture of me says 'I like sakura mochi," that is what it means and nothing more, and it can't be a lie. But, if the Mii version of me says the exact same thing, it's okay for me to add something afterwards like "would someone give me some?"

Sakamoto:

Ahh, yes, that's true.

Itoi:

It's a combination of this feeling that you can speak indirectly, and this realistic feeling that this is the real person. That is, how would you say it, mixed with a good kind of incompleteness, and it is great.

Sakamoto:

Thank you very much.

If we are talking about the meaning that Mr. Itoi mentioned, there are 2 types of Mii characters. The Mii characters that are in the 3DS "Mii Maker" and are used as player characters in games are like alter egos. In other words, they are like avatars. On the other hand, the Mii characters in the titles we worked on, "Tomodachi Collection" and "Miitomo," exist separately from the player, and will do things like speak on their own.

Itoi:

Yes, that's right.

Sakamoto:

They speak and they each have their own personality. they are living "Mii" characters. Putting it like that might be a bit confusing, but it is like there are two different types of Mii characters that look alike.

Itoi:

Yeah, really.

I will say that personally I don't really feel it when a main character in a role playing game speaks.

Even in MOTHER, even though the main character doesn't speak at all, as you progress through the game you get a feel for the main character's personality. And that is how I wanted to create the game. That is why he doesn't speak.

Right after "Dragon Quest" was released that kind of main character was commonplace, but as time passed there were a lot more characters that spoke in the game.

As I was looking at that I started to understand that well that works in its own way, but Mii characters have two roles.

Sakamoto:

Yes.

Itoi:

There are also two ways for people who play the game to go.

Within "Miitomo" there is a division between people who want dress up their Mii character in costumes, and people who don't want to do anything crazy and instead want to make their Mii as much like them as possible.

Sakamoto:

Ahh, indeed.

Itoi:

I think there are people who use the Mii characters like something close to an avatar. I, for one, feel happier the weirder it gets.

Sakamoto:

I understand. I am also like that.

Both:

(laugh)

Itoi:

Yeah, you just end up doing it like that….

When I was playing "Animal Crossing," I dressed up like a baby with a pacifier in my mouth, and I rampaged all around the village with an ax in my hand.

Sakamoto:

That's scary. (laughs)

Itoi:

To be honest, people were scared of me.

I would hide in the shadow of a tree, and when someone came to visit my village I would suddenly jump out and cut down a tree. I loved doing stuff like that. It was so much fun.

Sakamoto:

Hahahaha.

Itoi:

It was certainly unusual.

You can't do quite that much in "Miitomo," but you can lie in a response to a question, or give a different response from the intended response.

Sakamoto:

Yeah, that's true.

That part is up to you. (laughs)

Source: Miitomo.
At NintendObserver, the comments are on Discord.
Click on Community to learn more. 🙂
…
…Wanna play? Buy a 3DS.
That being said, click on Miitomo for everything you need to know about the game. 😀