Participating stores are GameStop, Best Buy and Amazon.com.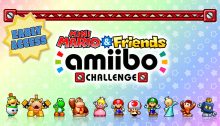 03.23.16

March into participating GameStop and Best Buy locations, or onto Amazon.com between 3/25/2016-4/27/2016 to purchase any amiibo™ figure, and you'll get a download code for early access to the Mini Mario & Friends amiibo Challenge game. Once you download the free game on your Nintendo 3DS or Wii U system, you just need to tap any amiibo figure to get started.

Mini Mario & Friends amiibo Challenge features new levels to beat and new obstacles to overcome. Tap any amiibo figure to guide a Mini Toy through the level to the exit, or tap specific amiibo figures to unlock Minis with their own special abilities and exclusive sets of levels.

— Nintendo What's New
Source: Nintendo.
At NintendObserver, the comments are on Discord.
Click on Community to learn more. 🙂
…
…Wanna play? Buy a Wii U.
And if you've already got yours, click on Mini Mario & Friends amiibo Challenge for everything you need to know about the game. 😀