From Smash Bros. to MMLC with Animal Crossing, Fire Emblem, Shovel Knight and more. 
☆ NintendObs Weekly – Monday, March 21, 2016 – Sunday, March 27, 2016.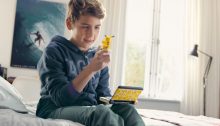 Ten Great Ways to Use amiibo with Nintendo 3DS

Got an amiibo? Here's some cool stuff you can do with it!

23/03/2016

Do you own an amiibo? Maybe you have one of the many characters from the Super Smash Bros. collection or an Inkling from Splatoon or one of the new range of Animal Crossing characters. If so, there are now lots of ways for your favourite amiibo to be used in a variety of Nintendo 3DS games.

If you have a New Nintendo 3DS or New Nintendo 3DS XL, then you can use amiibo right out of the box by just tapping it to the Touch Screen. If you have a Nintendo 3DS, Nintendo 3DS XL or Nintendo 2DS then you'll need an NFC Reader/Writer accessory. Once you're ready, here are some of the best uses we recommend…

Train and battle your favourite Nintendo characters in Super Smash Bros. for Nintendo 3DS

Every playable character in Super Smash Bros. for Nintendo 3DS has an equivalent amiibo figure available. There are even figures in the works for every DLC character too! That's a whopping 58 compatible amiibo! Each one can be tapped into Super Smash Bros. and trained alongside you as a "figure player". Fight alongside these figure players and they'll not only level up over time but also intelligently learn fighting strategies – they may even become a better Smash Bros. player than you! So why not make them your co-op buddy or even set them to play against a friend's amiibo? The NFC chip in your amiibo figure will remember everything it has learned so you can also put it to use on someone else's Nintendo 3DS or even Super Smash Bros. for Wii U.

Decorate animals' homes in Animal Crossing: Happy Home Designer

While amiibo is well loved for its range of detailed character figures, that's only one part of what amiibo is all about. amiibo can be anything and in the case of Animal Crossing, a range of amiibo cards are now available. Spanning four series of character cards, totalling 100 each, Animal Crossing cards work exactly like figures – you can tap them into games for added features and record data to them – but are more affordable and available in larger numbers. In Animal Crossing: Happy Home Designer, you can tap any Animal Crossing card to call that character into your game and fulfil special requests to design their homes. Your unique design can then be saved to the card so you can re-visit and re-design at any time or even lend the card to a friend so they can see your design. Prefer to use an Animal Crossing amiibo figure? You can of course do that too.

Create special battle cards in Mario & Luigi: Paper Jam Bros.

If you own an amiibo figure based on a character from the Super Mario world then you can use them to lend you a helping hand in Mario & Luigi: Paper Jam Bros. Tap a character into the game and they'll create a special card you can use in-game for extra power, health or so on. You can also create character cards, which are saved to your amiibo figure and are available to use once per battle at the tap of the amiibo. Own two different Super Mario related figures? You can actually mix and match them to create even more powerful cards. Try different combinations and see what happens!

Recruit classic Fire Emblem characters in Fire Emblem Fates

If you're a Fire Emblem fan then there are already quite a few of your favourite characters available as amiibo figures due to their inclusion in Super Smash Bros. Four of those figures are compatible with Fire Emblem Fates, coming to Nintendo 3DS on the 20th May. If you tap in either Lucina, Robin, Ike or Marth and those characters will appear in your castle to drop off a special gift or item. If you tap them in repeatedly for more gifts and eventually you'll be invited to battle that character. Defeat them in battle and they'll also join your team. Something we're sure will come as a relief to those who've lost precious allies during Classic mode.

Unlock random weapons and items in Hyrule Warriors: Legends

Which amiibo do you own? Good news! It will work with Hyrule Warriors: Legends! No, you don't have to use a Legend of Zelda character… Only have Tom Nook or Toad or Mega Yarn Yoshi? If you tap it into Hyrule Warriors: Legends it will unlock a random reward such as rupees or even a rare weapon for one of the game's 24 playable characters to use! You never know what you might unlock so give your favourite amiibo a try and see what happens. Of course, if you do own a The Legend of Zelda-related amiibo then they'll do something extra special. Use Link, Toon Link, Sheik, Zelda or Ganondorf and you can unlock a super powerful version of one of their weapons, or if you've recently acquired the Wolf Link amiibo then you'll be pleased to hear that it can unlock special variant weapons for Midna!

Customise your Shovel Knight

It's not just Nintendo characters who have appeared in amiibo form. Third party characters like Pac-Man, Sonic and Mega Man have all been brought to life thanks to Super Smash Bros. while indie sensation Shovel Knight also has his own amiibo! Use Shovel Knight in his Nintendo 3DS game and you'll activate Custom Knight, your own version of the character who levels up as you play, unlocking new abilities and extra appearances you can customise to your liking. If you've already unlocked Challenge Mode then you can also use your amiibo to unlock extra challenges that test your skill with Custom Knight.

Play as Fire Emblem characters in Code Name S.T.E.A.M.

Fire Emblem amiibo aren't just compatible with Fire Emblem Fates… You can also use Ike, Lucina, Robin and Marth in Code Name S.T.E.A.M, the 3D strategy RPG from Intelligent Systems, the same team behind the Fire Emblem series. While Fire Emblem is typically played from a top-down perspective across a grid of squares, Code Name S.T.E.A.M features full 3D environments with 360 degree movement and the ability to move up and down multiple levels, so it's great for fans to be able to import these classic Fire Emblem characters into a totally different type of strategy game experience.

Flaunt the look of famous Nintendo characters in New Style Boutique 2

Did you know that some of your amiibo figures have a love for fashion? It's true! When Nintendo Presents: New Style Boutique 2 – Fashion Forward was first released in Japan it featured the ability to unlock a handful of fun items based on certain amiibo characters. For example, you can unlock an amazing circular pink handbag based on Kirby, if you tap his amiibo into the game. As an extra special treat, the European release has an expanded range of amiibo compatibility. A number of Nintendo's most famous female amiibo now work with the game too. Characters like Peach or Animal Crossing's Isabelle or Splatoon's Inkling Girl all work with the game and unlock clothes or accessories designed around their original games or appearances.

Unlock and level up Super Chibi-Robo in Chibi-Robo! Zip Lash

If you own the special edition release of Chibi-Robo! Zip Lash then you'll already own the amiibo of our cute little robot friend. You can tap the amiibo during a level and Chibi-Robo will transform into Super Chibi-Robo, a bright gold robot with the ability to run faster and store more watts. Level up your amiibo at the end of each level and you'll earn the ability to transform into Super Chibi-Robo multiple times per day! You can also use the Chibi-Robo amiibo to activate the Chibi Capsule vending machine, from which you can win in-game toys and statues. If you tap another amiibo from any other collection and you'll also be able to win statues of Chibi-Robo posing like that amiibo figure. How cute!

Unlock fan-made challenge stages in Mega Man Legacy Collection

Now available on Nintendo eShop, Mega Man Legacy Collection faithfully recreates the first six Mega Man games from the Nintendo Entertainment System, lovingly presenting them as they were originally intended. There are some modern additions, one of which is the option to use the Mega Man amiibo from the Super Smash Bros. collection. If you tap the blue bomber to your Nintendo 3DS he'll unlock 11 extra challenge stages which were actually designed by Mega Man fans as part of a pre-release contest from Capcom.

That's just a taste of some of the cool ways you can use amiibo with your Nintendo 3DS but there are several more games that work with amiibo, with new games and figures released frequently. Make sure to check the official amiibo site for more info, browse the amiibo hub at the Nintendo Official UK Store for the latest offers and bundles relating to amiibo and compatible games, or follow the official amiibo Facebook page for the latest announcements.

— Nintendo UK News
Source: Nintendo.
At NintendObserver, the comments are on Discord.
Click on Community to learn more. 🙂
…
…Wanna play? Buy a 3DS.
And if you've already got yours, here are all the games already available on the platform. 😀