At the time of writing The Art of Phoenix Wright Ace Attorney Dual Destinies is at $31.20 on Amazon.com. 
☆ NintendObs Weekly – Monday, September 28, 2015 – Sunday, October 4, 2015.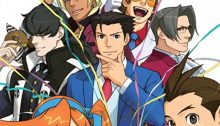 Phoenix Wright Dual Destinies artbook out now from UDON

SEP 24

Hot on the heels of the confirmation that Ace Attorney 6 (working title) is being developed for the West, UDON has treated us to a fancy new book collecting and celebrating the wonderful art of the series' last installment, Phoenix Wright Ace Attorney: Dual Destinies. 

Feast your eyes on these sample pages, then grab yourself a copy today!

Expect big, beautiful prints of lush key art like this…

…and this.

Nick made his much-awaited return in Dual Destinies, sporting a familiar but slightly modified look.

Mood-reading roustabout Athena Sykes.

The many moods of Phoenix. If only there were some manner of "matrix" to monitor such a thing.

Courtroom concept art!

Another masterpiece from UDON. Thanks guys!

— GregaMan at Capcom
Source: Capcom Unity.
At NintendObserver, the comments are on Discord.
Click on Community to learn more. 🙂
…
…Wanna play? Buy a 3DS.
And if you've already got yours, click on Phoenix Wright Ace Attorney Dual Destinies for everything you need to know about the game. 😀