Introducing the Range Blaster.
☆ NintendObs Weekly – Monday, July 27, 2015 – Sunday, August 2, 2015.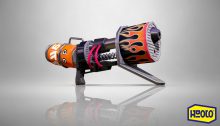 BREAKING NEWS – Good things must come in twos (that's a thing, right?), because also coming to Splatoon tonight is the Range Blaster! As the name suggests, the Range Blaster is a Blaster with shots that travel farther before exploding. It has a lower rate of fire, but who cares when you're taking people out from clear across the battle field!? The Range Blaster comes complete with the Splash Wall and Inkstrike.

— Squid Research Lab
Source: Splatoon's Tumblr.
At NintendObserver, the comments are on Discord.
Click on Community to learn more. 🙂
…
…Wanna play? Buy a Wii U.
And if you've already got yours, click on Splatoon for everything you need to know about the game. 😀