Introducing the Inkbrush Nouveau.
☆ NintendObs Weekly – Monday, July 27, 2015 – Sunday, August 2, 2015.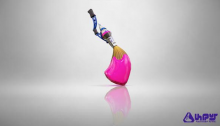 Sometimes, a kid just wants to get up close and POW! Introducing the Inkbrush Nouveau, which brings the same abilities as the Inkbrush but has a different sub and special! You'll be able to lay Ink Mines to catch your foes off guard, and then use the Bubbler when you're ready to go in for your attack!

The Inkbrush Nouveau will be available tonight at 7 PM PT.

— Squid Research Lab
Source: Splatoon's Tumblr.
At NintendObserver, the comments are on Discord.
Click on Community to learn more. 🙂
…
…Wanna play? Buy a Wii U.
And if you've already got yours, click on Splatoon for everything you need to know about the game. 😀