In-game picture courtesy of IKAさま (NNID: ikachiyo) on Miiverse. 🙂
☆ NintendObs Weekly – Monday, June 22, 2015 – Sunday, June 28, 2015.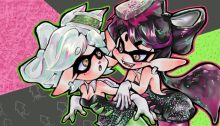 Version française ici : Art Academy: Atelier est disponible en boutique et sur le Nintendo eShop. 😉

26/06/2015

Transform your Wii U GamePad into an artist's canvas full of possibilities in Art Academy: Atelier, only on Wii U! Enjoy 30 comprehensive lessons under the tutelage of a friendly master, Vince, who offers information on concepts, theory and techniques, then take the first step toward a masterpiece!

By completing lessons, you will become familiar with the reasoning behind the techniques, and learn more about the masters of the craft. The software can also be used to draw or paint freely, thanks to the wide variety of materials and tools, such as pencils, pastels, paints, plus, for the first time, charcoal.

Whether you have created fun doodles, work-in-progress artworks or finished masterpieces, you can show off your creative process by uploading a time-lapse video of the creation of your artworks online. Share your creations via Miiverse, YouTube*, or export to an SD card then email to a friend, or even print and frame!

Discover all the colourful details, including information about an exclusive discount for Art Academy: SketchPad owners, on our Art Academy: Atelier website.

Art Academy: Atelier is available from shops and as a downloadable version from Nintendo eShop now, only on Wii U.

— Nintendo UK News
Source: Nintendo UK.
At NintendObserver, the comments are on Discord.
Click on Community to learn more. 🙂
…
…Wanna play? Buy a Wii U.
And if you've already got yours, click on Art Academy Atelier for everything you need to know about the game. 😀