No matter which version of Adventure Mode you pick; your unlockable rewards will be the same.

☆ NintendObs Weekly – Monday, May 20, 2019 – Sunday, May 26, 2019.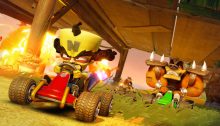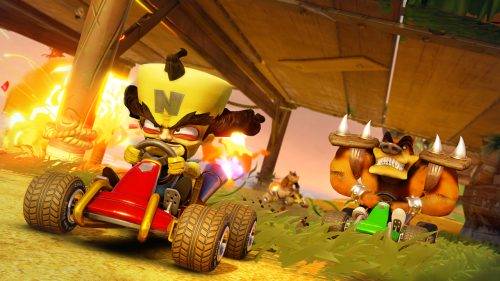 Announcement: Details of Crash™ Team Racing Nitro-Fueled Adventure Mode Revealed!

Play Classic or Nitro Fueled Adventure Mode and defeat Nitros Oxide: It's a Survival of the Fastest!

May 24, 2019

When Crash™ Team Racing Nitro-Fueled launches on June 21, you'll have plenty of game modes to choose from to race against your friends or with players around the world. Today, though, we're thrilled to lean into the single-player campaign mode for the game: The Adventure Mode. In CTR Nitro-Fueled, you will get to choose from the "Classic" or "Nitro Fueled" variants of this mode! Each mode offers a lot of things to earn along the way, though there are some slight differences. Here's what each is all about:

Classic Adventure Mode: Racing Like It's 1999!

The original CTR Adventure mode is available to play like you remember it, except updated with new visuals: Prevent Nitros Oxide from turning earth into a parking lot by beating your opponents in numerous races across five hub worlds, starting at N. Sanity Beach! In this mode, you have various types of races and challenges to complete:

Trophy Races: Ready to hit the track? Race against your favorite crazy competitors and earn Trophy as you win. Then use those Trophies to unlock the next tracks to continue your adventure!

Boss Keys: When you've claimed all the Trophies in a particular world, you get to race a Boss! Whether it's Ripper Roo, Papu Papu, Komodo Joe, or Pinstripe Potoroo, face off against each one and beat them to claim their key: It's the only way to unlock your final battle against Nitros Oxide! Now, bosses will be unlocked as you beat them.

CTR Challenges: Reckon you can take first place? What about when you've a "C", "T", and "R" token to grab during that race? Those letters can be hidden in some fiendishly-cunning locations, and you need to grab all three as well as finishing first!

Crystal Challenges: Bonus Round! Once this opens up, you need to collect 20 crystals before the time runs out. Succeed, and you earn a special purple Token!

Relic Races: Gather strange Relics by finishing a solo race in the fastest time possible! As well as learning all a course's shortcuts and proper turning techniques, you also need to smash Time Crates to freeze the clock for an additional time bonus.

Gem Cups: Once you've obtained four CTR Tokens of the same color, expect a weird and wonderful warp vortex to appear; transporting you to series of (usually) four races. Beat all opponents to unlock some extra-special rewards!

As with the original Adventure Mode from CTR, in the Classic setting you can only pick one character to use from start to finish, there are no customization options (meaning you're racing using the basic kart from CTR), and your opponents are chosen from the original cast. There's also no difficulty option. But don't worry; you still receive the cool new rewards even when you're playing this Classic variant!

Nitro-Fueled Adventure Mode: Revved Up to the Max!

Available in Crash Team Racing Nitro-Fueled is a new way to play Adventure Mode: Choose the Nitro-Fueled setting, and you're able to switch your character or kart whenever you want, and choose from any character skins, decals, wheels, stickers, and paint jobs that you have unlocked. Expect your rivals to sport some new looks too! Finally, there's a new Heads-Up Display (HUD), and a choice of three difficulty levels depending on how challenging you want your Adventure Mode to be!

No matter which version of Adventure Mode you pick; your unlockable rewards will be the same. But what rewards can you receive? Glad you asked, as Thomas Wilson, Co-Studio Head at Beenox explains:

"There are new items all throughout the Adventure Mode in CTR Nitro-Fueled. You will still be earning the boss characters like in the original, but now you will also be getting new kart parts, character skins, or kart customization items with every victory. Also, players will now earn the boss characters immediately after they beat that boss, instead of after Gem Cups. This includes the ability to earn the infamous Nitros Oxide himself!"

Get Ready for a Crash Course of Content!

The two ways to play Adventure mode is just the beginning: Check back with the Activision Games Blog over the coming weeks as we discuss even more cool game features! For now, why not check out the Adventure mode video?

Pre-Order and get More Cool Stuff!

Remember too; if you pre-order the game on PlayStation® 4, Nintendo Switch, or Xbox One, you receive the Electron Skins Pack, which contains the Crash Coco and Cortex Electron Skins, each having a unique podium animation. Also, if you purchase the PlayStation® 4 version of the game, you can re-live the '90s and choose exclusive retro Crash, Coco, and Cortex character skins, retro karts, as well as racing on a soon-to-be revealed retro track!, Finally, purchase the Nitros Oxide Edition of the game to play as Nitros Oxide, Crunch, Zem or Zam from day one, race with Oxide's Hovercraft from day one, and receive exclusive skins and customization items!

Fans wanting to start revving their engines in anticipation can pre-order both editions of Crash Team Racing Nitro-Fueled now!

— David Hodgson at Activision
Source: Activision Blog.
At NintendObserver, the comments are on Discord.
Click on Community to learn more. 🙂
…
…Wanna play? Buy a Switch.
And if you've already got yours, click on Crash Team Racing Nitro-Fueled for everything you need to know about the game. 😀