SteamWorld Heist details on pricing, story, E3 plans and more.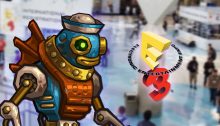 Howdy, everyone!

We just released a new Q&A for SteamWorld Heist – our upcoming turn-based strategy game set in space. We answer community questions about our plans for the game at E3, the game's story, how far we're into development and much more! You'll also see a lot of scenes from our office space 😀

Watch the video on our YouTube channel: https://www.youtube.com/watch?v=MTqNSMLSvJs

— Agnes (NNID: Imageform)
Source: Miiverse.
At NintendObserver, the comments are on Discord.
Click on Community to learn more. 🙂
…
…Wanna play? Buy a 3DS.
And if you've already got yours, click on SteamWorld Heist for everything you need to know about the game. 😀