The Nintendo World Championships 2015's first round is on Ultimate NES Remix.
☆ NintendObs Weekly – Monday, May 18, 2015 – Sunday, May 24, 2015.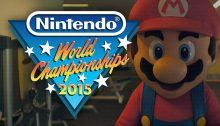 Best Buy Locations Set for Nintendo World Championships 2015 Qualifying Events

May 19, 2015

Nintendo has chosen eight Best Buy locations across the country to host qualifying events on May 30 for the upcoming Nintendo World Championships 2015. Nintendo invites video game fans of all skill levels who are United States residents ages 13 and up to take part in the qualifying events for a chance to compete in the Nintendo World Championships 2015 on June 14 in Los Angeles during the week of the E3 video game trade show.

The qualifying competition will feature the Championship mode of the Ultimate NES Remix game for the Nintendo 3DS family of systems. In this mode, players will take on a series of three score-based challenges in Super Mario Bros., Super Mario Bros. 3and Dr. Mario. Games and systems will be provided at each location, although Ultimate NES Remix is available now in stores and in the Nintendo eShop for anyone who wants to start practicing for the competition. The top scorer from each of the eight regional competitions will move on to the final event in Los Angeles, which will be a multi-round competition with a variety of Nintendo games. An additional eight competitors selected by Nintendo will also compete in the Nintendo World Championships 2015. Nintendo will reveal these competitors in the near future.

The qualifying events will take place from 10 a.m. to 7 p.m. local time at Best Buy stores at the following locations:

1717 Harrison St.
San Francisco, CA

3675 Pacific Coast Highway
Torrance, CA

900 E. Golf Road
Schaumburg, IL

12905 Elm Creek Blvd. N
Maple Grove, MN

5001 Northern Blvd.
Long Island City, NY

9378 N. Central Expressway
Dallas, TX

For more information about the Nintendo World Championships 2015, including the Official Rules for the qualifying events, visit http://e3.nintendo.com/.

Source: Business Wire.
At NintendObserver, the comments are on Discord.
Click on Community to learn more. 🙂
…
…Wanna play? Buy a 3DS.
And if you've already got yours, click on Ultimate NES Remix for everything you need to know about the game. 😀