I wonder how epic this port is going to turn out on the new compact handhelds.
☆ NintendObs Weekly – Monday, March 16, 2015 – Sunday, March 22, 2015.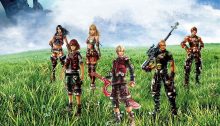 Version française ici : Consultez le site web pour découvrir de nouvelles infos capitales sur Xenoblade Chronicles 3D. 😉

19/03/2015

A new journey begins on our vast, new Xenoblade Chronicles 3D website: discover the ancient chronicle of two colossal beings locked in combat, meet the heroes you'll come to know and admire, and pore over details of future conflict with enemies both natural and inhuman. All the details dawn here in anticipation of April 2nd, when this far-reaching RPG adventure sets off, exclusively on New Nintendo 3DS and New Nintendo 3DS XL.

With a story spanning eons, you'll discover the Bionis and Mechonis: unearth their history and how they forged a modern world of contrasts, from grassy plains and thunderous waterfalls, to craggy peaks and industrial factories – and everything in between.

You'll learn the manner and motivations of all the players, including heir apparent Shulk, and his strange affinity with the legendary sword, Monado. Get acquainted with close friend, Reyn, young and visceral, the Nopon furball, Riki, and a monstrous Mechon antagonist borne of steel, but with an alarming, human visage…

Delve into battle with its mix of real-time action, strategic Arts, party-wide Chain Attacks, and even Visions that foretell impending disasters – change the future, change the outcome!

Wrapping up the expansive site is a clutch of information about what's new in this portable version of the acclaimed Wii original, including Collection Mode, which features nearly 200 in-game character models and soundtrack excerpts to amass. There's a handsome Shulk amiibo to aid your collection quest, a set of slick, minimal cover plates for New Nintendo 3DS*, and a gorgeous HOME Menu theme available to anyone who purchases the game from Nintendo eShop before 9th April 2015.

See it all for yourself at the new Xenoblade Chronicles 3D website.

Xenoblade Chronicles 3D will be available from shops and as a downloadable version from Nintendo eShop on April 2nd, only on New Nintendo 3DS and New Nintendo 3DS XL.

— Nintendo UK News
Source: Nintendo UK.
At NintendObserver, the comments are on Discord.
Click on Community to learn more. 🙂
…
…Wanna play? Buy a 3DS.
And if you've already got yours, click on Xenoblade Chronicles 3D for everything you need to know about the game. 😀