How Vistrahda came to life.
☆ NintendObs Weekly – Monday, June 26, 2017 – Sunday, July 2, 2017.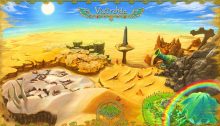 The world of Ever Oasis – part 2

Learn all about the creative process involved in dreaming up a new video game world, straight from the mind of Koichi Ishii.

Version française ici : Le monde d'Ever Oasis – partie 2. 😉

27/06/2017

Hello, everyone!

This is Koichi Ishii from GREZZO Co., Ltd.1 I'm the producer and director of Ever Oasis on Nintendo 3DS family systems.

I had an amazing holiday during Golden Week2…at home. We'd just finished up a chunk of development and I didn't feel like dealing with crowds or traffic, so I kicked back at home, relaxing and playing with my dogs.

When I get a bit more time, I'm also hoping to go back to adventuring in The Legend of Zelda: Breath of the Wild on Nintendo Switch for a bit…

Now then, in the first part of this series, I discussed the characters in Ever Oasis. Today, in part 2, I would like to talk about how the world of Vistrahda was created.

Creating a new world

When making a game, I always start by building the world. So for example, to create a fantasy game world, I start with these questions:

What sort of chemical elements is the planet made of?

What climate and terrain result from these chemical elements?

What kinds of beings live there?

Are there humans or other humanoid creatures?

How do those people live?

What sorts of factions are there and what are their peculiarities?

What kinds of tools do they use?

How are things evolving over time?

…and so on. I try to draw a map of the world while considering things from different points of view and working out how it all fits together.

Some people might ask if it's really necessary to think about everything in that level of detail from the start, but there are all sorts of game mechanics that appear in the game in ways that are invisible to the player.

When the setting is carefully thought out, that care shines through in subtle ways in incidental conversations, or in items the player acquires throughout the game. As the player gradually gathers these pieces of information, they can put together a picture of a larger, more expansive world. That's very important to me.

Ever Oasis is designed as Egyptian fantasy, so our starting point was to set it in a desert world.

These are the sorts of things we thought about:

What kind of world was it originally?

Did it turn to desert because the power of the spirits declined?

What caused the spirits' power to decline?

What does this mean for the world's logic and relationships?

We don't try to have the characters explain the entire setting, but we hope that through occasional titbits of information, players can enjoy the game while forming an idea of the background world and its history.

Breathing life into the world

Once the game's setting was decided, we brought in a team of artists and started creating lots of concept art to help consolidate our vision. Vistrahda is a desert world, but between its areas of brown sand, white sand and caves, it offers a variety of landscapes, each with a charm of their own.

Vistrahda wasn't always a desert – once upon a time, it was a lush, green land filled with oases. Over time it was covered in sand, and now only traces of the old world remain. The large pot in the left picture above is a remnant of those days.

There are also settlements in places like limestone caves, where blue is the dominant colour. What might look like a river at first glance is actually sand when you look closer. Perhaps there used to be a river here that carried water to a great ocean?

I'll leave you to ponder that mystery – thanks for reading!

Please look forward to part 3, in which the concept artists of Ever Oasis discuss how they helped to bring Mr Ishii's vision for the world of Vistrahda to life. In the meantime, you can read part 1 and learn all about the characters who inhabit this desert world, including the hero and the water spirit Esna!

Free demo* available

A free demo* of Ever Oasis is now available to download from Nintendo eShop on Nintendo 3DS family systems, or via the official Ever Oasis website**.

Ever Oasis is available in shops and as a downloadable version from Nintendo eShop now, only on Nintendo 3DS family systems.

— Nintendo UK News
Source: Nintendo UK.
At NintendObserver, the comments are on Discord.
Click on Community to learn more. 🙂
…
…Wanna play? Buy a 3DS.
And if you've already got yours, click on Ever Oasis for everything you need to know about the game. 😀