Gunvolt's demo and update are right around the corner.
☆ NintendObs Weekly – Monday, March 2, 2015 – Sunday, March 8, 2015.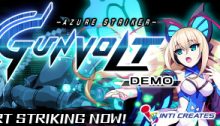 AZURE STRIKER GUNVOLT VERSION UPDATE, DEMO VERSION & NEW THEME FOR 3DS

03/03/2015

Straight from Inti Creates Fan Festa 2015 in Tokyo, we are happy to announce that on Thursday March 5th, a whole bunch of new Gunvolt goodies including a version update, demo version, and an additional 3DS theme will be available!

First let's have a look at the new theme, "The Sumeragi 7." This one features the seven Sumeragi boss characters in a scrolling image on the upper screen, and some nighttime city scenery on the lower screen! The boss battle theme "Sumeragi Skirmish" plays in the background. The Sumeragi 7 theme will be available for $1.49.

For those of you who haven't had a chance to play Azure Striker Gunvolt, you now have the opportunity to try before you buy! The demo version of Azure Striker Gunvolt will be playable up to 20 times, and includes a special bonus for those of you who purchase the full version after completing the demo version! Players will be able to enjoy 500,000 Vig (in game currency) and ample item snyth materials so that you can start powering up Gunvolt's arsenal right away!

As for the version update,  Azure Striker Gunvolt has been recharged and loaded up with brand new features for Ver. 1.2!

No. 1: Boss Rush Mission

Beat the game to unlock the new Boss Rush mission! Get 1000+ Kudos during Boss Rush to hear the English version of Beyond the Blue!

No. 2: Brand New Lumen Song

Lumen's brand new song "Sakura Efflorescence" now plays during normal mission playthroughs!

No. 3: Support for New Nintendo 3DS™

Use the ZL Button and ZR Button to change your weapon on the fly! Enjoy higher CPU power and shorter loading times too!

No. 4: Transfer Your Save Data from the Demo Version

Transfer save data from the demo version to the full version while retaining all items and credits!

No. 5: Various Bug Fixes

Various big fixes have been implemented:

A bug that prevents players from progressing mid-game has been fixed.

We hope that you will enjoy the new features, so don't forget to update your game on 3/5 and enjoy the charged up Version 1.2!

— Inti Creates Matt
Source: Inti Creates.
At NintendObserver, the comments are on Discord.
Click on Community to learn more. 🙂
…
…Wanna play? Buy a 3DS.
And if you've already got yours, click on Azure Striker Gunvolt for everything you need to know about the game. 😀