Kirby Battle Royale is out now in North America.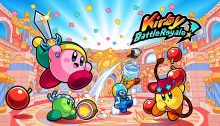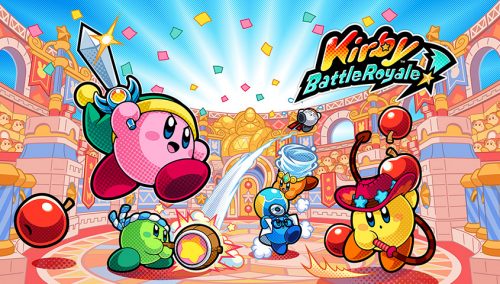 01.19.18

Kirby™ is entering a tournament against his toughest rival yet…himself! 1-4 players can fight in local* or online** battles. You can pick from 10+ Abilities and 10 battle types to compete in countless matchups. You can hoard treasure in Ore Express, knock out opponents in Slam Hockey, shoot missiles at Robo Bonkers, and more.

Up to 4 players* can each choose an Ability and fight in Kirby-on-Kirby battles*

Battle via local wireless* or regional online play

Uncover King Dedede's nefarious plan in the single-player story mode

The Kirby series amiibo™ figures and Kirby character amiibo from the Super Smash Bros.™ series are compatible with this game. Tap the corresponding amiibo to receive exclusive in-game headgear of Galacta Knight, Café Waddle Dee, Ultra Sword Kirby, or Masked King Dedede.

Take some of Kirby's Abilities for a spin in the free game demo, now available for download on Nintendo eShop for the Nintendo 3DS™ family of systems. After finishing the demo, you can transfer your demo data to the full version of Kirby Battle Royale (once purchased) to unlock Meta Knight as a playable character!

The Kirby Battle Royale game is available now only on the Nintendo 3DS family of systems. It can be purchased in stores, in Nintendo eShop, and at Nintendo.com.

Game in 2D.

— Nintendo What's New
Source: Nintendo.
At NintendObserver, the comments are on Discord.
Click on Community to learn more. 🙂
 …
…Wanna play? Buy a 3DS.
And if you've already got yours, click on Kirby Battle Royale for everything you need to know about the game. 😀