The sale begins tomorrow this Thursday in Europe.
☆ NintendObs Weekly – Monday, February 2, 2015 – Sunday, February 8, 2015.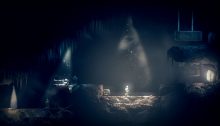 Version française ici : Offre Nintendo eShop : jeux Curve Digital sur Wii U. 😉

03/02/2015

You can download new games, applications and other content to your Wii U or Nintendo 3DS, directly from Nintendo eShop. New titles are added regularly, and sometimes there are special discounts to discover, too!

Take a look at the latest digital download deals and grab a bargain from Nintendo eShop for a limited time! Check below for more details on participating titles.

Between 14:00 (UK time) on February 5th and 23:59 (UK time) on February 19th 2015, you can save 25% on Curve Digital titles in Nintendo eShop on Wii U!

That's not all: if you own any of the participating titles on your Wii U now – or buy one from Nintendo eShop during the sale period – you can purchase the participating titles you don't own yet for 35% off the regular Nintendo eShop price*. The discount will be applied automatically.

Wii U download software

Stealth Inc 2: A Game of Clones

In Stealth Inc 2, play the role of a clone and escape a sinister and high-tech testing facility. Stealth Inc 2 tests both your brain and your reflexes over 60 varied levels linked together in a sprawling overworld. Dodge traps and enemies, hide in the shadows to avoid being detected and use a range of gadgets as you attempt your grand escape.

Find out more in our exclusive interview

Lone Survivor: The Director's Cut

Lone Survivor: The Director's Cut is a new kind of adventure where you choose how to survive. Sneak through without firing a single shot, or take down everything in your path. Eat and sleep well, or self-medicate to keep going. Search for survivors, or try to escape the city alone. Look after your mental health, or descend into madness. Lone Survivor is a game where your choices genuinely matter.

The Swapper

What if someone knew your mind better than you did? The Swapper is an award-winning, narrative driven puzzle game set in the furthest reaches of space.

Thomas Was Alone

Thomas Was Alone is an indie platformer about friendship and jumping. Guide a group of sentient rectangles through a series of environments, combining their skills to reach the end of each level.

— Nintendo UK News
Source: Nintendo UK.
At NintendObserver, the comments are on Discord.
Click on Community to learn more. 🙂
…
…Wanna play? Buy a Wii U.
And if you've already got yours, here are all the games already available on the platform. 😀