Nintendo of America wants to know which job will be your first as you'll venture through the world of Fantasy Life.
☆ NintendObs Weekly – Monday, October 27, 2014 – Sunday, November 2, 2014.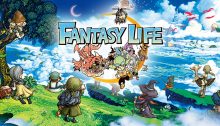 10.27.14

Live the life of your dreams in the new Fantasy Life™ game for Nintendo 3DS. You'll enter the charming world of Reveria where you can make friends, defeat foes, and maybe even save the world!

But first, you've got to choose your first job, or Life Class. Fantasy Life has 12 different Life Classes, each with their own special skills to learn and quests to complete. And the best part is that you can switch Life Classes at almost any time…so the way you play is totally up to you!

Whether you want to share your fashion sense as a Tailor or show off your combat skills as a Paladin, there's a Life Class for you. See which Life Class suits you best with the quiz, and let your friends know by sharing your results!

— Nintendo What's New
Source: Nintendo.
At NintendObserver, the comments are on Discord.
Click on Community to learn more. 🙂
…
…Wanna play? Buy a 3DS.
And if you've already got yours, click on Fantasy Life for everything you need to know about the game. 😀