Can you stop Timbletot, Carlos Calaca and ninja monkeys? Well, together their games are 60% off.
☆ NintendObs Weekly – Monday, January 12, 2015 – Sunday, January 18, 2015.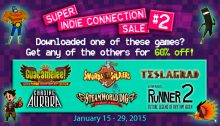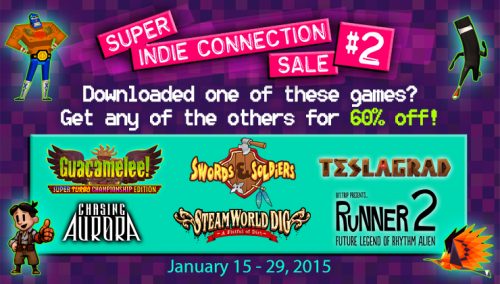 01.15.15

Now through January 29, fans who already own any of the participating titles for Wii U–or purchase one at full price during the promotion–will get 60 percent off all the other participating titles.

It's the perfect time to check out participating games, including:

Steamworld Dig

: In this platform mining adventure, players take the role of Rusty, a lone steamboat, as he arrives at an old mining town in great need. Dig your way through the old earth, gaining riches while uncovering the ancient threat that lurks below…

Guacamelee! Super Turbo Championship Edition

: Enter a magical world inspired by traditional Mexican culture and folklore in this adventure brawler game. Juan Aguacate, an agave farmer who stumbles upon a Legendary Luchador mask, must find the strength and courage to become the Hero he's always dreamed of being and put a stop to the evil Carlos Calaca.

Chasing Aurora

: An asymmetric multiplayer game about the dream of flight. You'll ride the wind from peak to peak, fight for Aurora's Gem, and fly your bird to victory in the breathtaking scenery of the Alps.

Swords & Soldiers

: Command an army of Vikings in their quest to create the ultimate BBQ sauce, lead the Aztecs in defense of the Holy Pepper, and build an array of explosive Chinese toys! Build your own forces and defeat your foes using berserkers, dart blowers, giant boulders, ninja monkeys (yes, ninja monkeys!) and many more!

Teslagrad

: A 2D puzzle platformer with action elements, where magnetism and other electromagnetic powers are the key to discovering the secrets kept in the long abandoned Tesla Tower. Gain new abilities to explore a non-linear world with more than 100 beautiful hand-drawn environments, in a steampunk-inspired vision of old Europe.

Learn more at: http://www.nintendo.com/eshop/offers.

— Nintendo What's New
Source: Nintendo.
At NintendObserver, the comments are on Discord.
Click on Community to learn more. 🙂
…
…Wanna play? Buy a Wii U.
And if you've already got yours, here are all the games already available on the platform. 😀