Lead by Sonic Boom toy partner TOMY.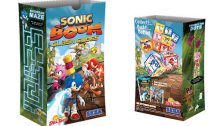 Monday Nov 03, 2014

Sonic fans love merchandise. So we're excited to announce a robust lineup of merchandising and promotional partners that will be racing to retail throughout the year. These partners are focused in several key categories including toys, apparel, and food & beverage.

Sonic Boom's overall broad licensing program will be one of the biggest license initiatives SEGA has undertaken in recent years. SEGA has lined up best-in-class retailers, including Walmart, Target, Toys R Us, JCPenney, Kohl's and Barnes & Noble, to feature an array of offerings from partners such as Archie Comics, Bioworld, Fifth Sun, Bakery Crafts, Isaac Morris, and Bulls I Toy for brand new Sonic Boom toys, comics, apparel, and novelty. Also joining are Accessory Innovations, Franco, Rubies, Howard Keys, teNeues, and World Tech Toys – covering back-to-school, bedding, costumes, housewares, calendars, and remote control vehicles for North America and Mexico in 2015.

The program will be anchored by new master toy partner TOMY, who will showcase the new character looks, stressing interaction between core characters, and feature new play patterns based on both the games and TV series. The toy line will be fueled by TOMY innovation and energized with speed, lights, sounds, motion-activation, and action-performance and include plush, action figures, RC, role play, vehicles, and novelty.

SEGA has lined up additional creative promotional partners to pair with the video game icon. Sonic and his iconic shade of blue will be making their way into a special Sonic Boom branded version of the classic ICEE Blue Raspberry flavor. The promotional flavor will be available nationwide, and feature a custom designed ICEE and Sonic Boom 24-ounce cup, along with the opportunity to win prizes and unlock bonus game content from Sonic Boom: Rise of Lyric for the Wii U system. Sonic and his friends will also be partnering with Del Taco to create a multiplatform campaign with in-restaurant, social media, and radio promotional components in top national markets such as New York, Los Angeles, Chicago, San Francisco, Dallas and Miami.

"The evolution of Sonic Boom is set to take off at lightning speed, and we are racing toward new and innovative ways to bring this new branch of the beloved Hedgehog to life", said John Cheng, President and COO, SEGA of America. "Sonic the Hedgehog has over 20 years of history to his name, and we have lined up partners and merchandisers to create a program that will tie every facet of Sonic's world together."

— Kellie at SEGA
Source: SEGA Blog.
At NintendObserver, the comments are on Discord.
Click on Community to learn more. 🙂
…
…Wanna play? Buy a Wii U.
And if you've already got yours, click on Sonic Boom for everything you need to know about the franchise. 😀