Encore!! Encore!! Amy!! Amy!! 😃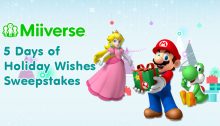 Hello, everyone!

The holidays are almost here, and it's time to start creating a wish list! Do you know what you'd like to receive this year? If you'd like some game ideas, there's a perfect website: Nintendo Holiday Gift Guide (happyholidays.nintendo.com)! It even lets you create a wish list and share it with your family and friends.

We also love hearing what gifts our Miiverse friends are hoping for—so we're hosting another sweepstakes!

How to join: What do you want most? Tell us the one gift at the top of your list as a new post! This can be in either text or as a drawing.

By making a new post on this community to share your most wanted item before 11/07/2014, you will be automatically entered for a chance to win a $10 Nintendo eShop credit. Please make sure you read the full rules before entering!

Remember this is one entry per person, and you can also enter by mail! I'm looking forward to seeing what you wish for from your family and friends this holiday!

— Amy (NNID: NintendoAmy)
Source: Miiverse.
At NintendObserver, the comments are on Discord.
Click on Community to learn more. 🙂
…
…Wanna play? Buy a 3DS.
And if you've already got yours, click on Tomodachi Life for everything you need to know about the game. 😀