Events are back from Melee, some playable as two players.
☆ NintendObs Weekly – Monday, October 20, 2014 – Sunday, October 26, 2014.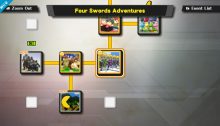 In the Wii U version, you can take on themed challenges in Events mode. Some of these challenges' themes are closely related to the original games of specific characters, while others simply have unique conditions for success.

As you clear events, more events will be unlocked. During your journey through Events mode, you may encounter rewards and hidden routes!

Co-op Events

There's also a separate two-player Events mode that requires you and another player to team up to overcome challenges.

Source: Smash Bros.
At NintendObserver, the comments are on Discord.
Click on Community to learn more. 🙂
…
…Wanna play? Buy a Wii U.
And if you've already got yours, click on Super Smash Bros. for Wii U for everything you need to know about the game. 😀