The kickoff of the Final Fest. DEAR SENPAI though.

☆ NintendObs Weekly – Monday, July 15, 2019 – Sunday, July 21, 2019.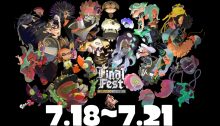 A Splatocalypse of cataclysmic proportions has arrived! Will you side with the punky Pearl and thrash towards victory with Team Chaos? Or join forces with the mellow Marina and harmonize with Team Order?

The Final Splatfest begins today, and runs until 7/21 at 5am PT!

— Squid Research Lab
Source: Splatoon's Tumblr.
At NintendObserver, the comments are on Discord.
Click on Community to learn more. 🙂
…
…Wanna play? Buy a Switch.
And if you've already got yours, click on Splatoon 2 for everything you need to know about the game. 😀