Explore Reveria through 12 different Lives to choose from.
☆ NintendObs Weekly – Monday, September 22, 2014 – Sunday, September 28, 2014.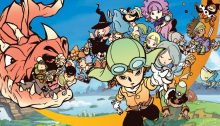 Version française ici : Maintenant disponible en magasin et sur le Nintendo eShop : Fantasy Life. 😉

26/09/2014

Get ready for a great big adventure – Fantasy Life, the latest game from LEVEL-5 for Nintendo 3DS and 2DS, is out now across Europe!

This lush RPG is set in the colourful realm of Reveria – which used to be a peaceful land before strange stones started falling from the sky! Can you discover the secret behind these odd events? On your journey you'll travel far and wide across this vast, open world, visiting sprawling meadows, bustling cities, crystal shores, icy peaks and toasty volcanoes.

In Reveria, your vocation is known as your Life, and there are 12 to choose from – pick from Paladin, Hunter, Cook, Blacksmith, Alchemist and more. Each one offers different abilities, and you can change Life whenever you like; switch between efficiently gathering materials, cleverly creating items, or taking up arms in combat as the mood takes you! Plus, making progress in one Life can help you with another: you can gather ore as a Miner, forge it into a weapon as a Blacksmith, then use it in battle as a Mercenary. There are tons of Quests and Challenges to tackle and completing these will level up your character or improve your Life rank, making you even stronger!

The path you choose through the 12 Lives will make your hero truly unique, but you can also customise your look and stats with a range of different gear. There are hundreds of items to craft and collect, and some can be used to decorate your homes across the land. If you fancy, you can have pets and take them on your adventures, but if you desire a bit more of a human connection you can adventure together with your real-life friends. Up to three players can explore Reveria together, either online* or via local wireless. Club together and use your skills to help each other!

A rich and colourful world that's full of adventure awaits you on Nintendo 3DS or 2DS. Find out more now, at our official Fantasy Life website!

Fantasy Life is available now, both in shops and as a downloadable version from Nintendo eShop, only on Nintendo 3DS and 2DS.

— Nintendo UK News
Source: Nintendo UK.
At NintendObserver, the comments are on Discord.
Click on Community to learn more. 🙂
…
…Wanna play? Buy a 3DS.
And if you've already got yours, click on Fantasy Life for everything you need to know about the game. 😀