Yoshitaka Amano. Nobuo Uematsu. Level-5.

☆ NintendObs Weekly – Monday, September 15, 2014 – Sunday, September 21, 2014.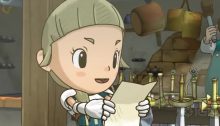 Version française ici : Découvrez la nouvelle perle signée LEVEL-5 sur le tout nouveau site officiel de Fantasy Life. 😉

19/09/2014

Fantasy Life is an epic RPG for Nintendo 3DS & 2DS that's coming out on September 26th, and you can read all about it at our shiny new Fantasy Life website!

Brought to Nintendo 3DS and 2DS by LEVEL-5, best known for the Professor Layton and Inazuma Eleven games, Fantasy Life is an RPG that offers loads of quests, tons of unique items to collect, and a deep system that lets you customise your hero so they're totally unique.

In the vibrant, open world of Reveria your vocation is known as your 'Life', and there are 12 different Lives to choose from, each with their own special abilities and gear. You can chop and change between Lives as you please, using the abilities of one Life to help you along in another. Gather precious metals as a Miner, forge them into a superb sword as a Blacksmith, then use it to valiantly vanquish enemies as a Paladin, and more. As you explore Reveria, you'll complete Quests and Challenges that level you up, making you more powerful – you might even end up saving the world!

Heading out on an adventure is even better with mates who've got your back, and there are several connection options in Fantasy Life: up to three friends can adventure together online* or via local wireless, you can cheer on your chums via Link Mode, or exchange data with other players via StreetPass so they appear in your world.

With a sweet 'n' sumptuous art style and a soundtrack by famed composer Nobuo Uematsu, Fantasy Life is a feast for your eyes and ears, too. Take in the sights and sounds at our official Fantasy Life website, where you'll also find more info on the 12 Lives, the realm of Reveria, and much more.

Fantasy Life will be available on Nintendo 3DS and 2DS on September 26th, both in shops and as a downloadable version from Nintendo eShop.

— Nintendo UK News
Source: Nintendo UK.
At NintendObserver, the comments are on Discord.
Click on Community to learn more. 🙂
…
…Wanna play? Buy a 3DS.
And if you've already got yours, click on Fantasy Life for everything you need to know about the game. 😀