NintendObserver: probably the only website to have covered the Camp's adventures. #TeamZelda #WetheCampers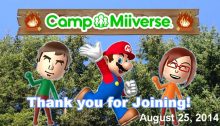 Final results!

The winning team for all of Camp Miiverse is… Team Mario! Congratulations to everyone in Team Mario, and thanks to those who showed valiant effort in Team Zelda!

Amy and I are happy to see that so many of you joined our camp. We all had a great time playing together!

We had a blast but now we must pack our gear and head on out…this will be the last post in Camp Miiverse, but feel free to let us know what you thought about our camp in the comments. We'll be closing the community later this week.

We hope you'll keep playing games even after you're all back home, whether it's by yourself or with friends or family.

— Tom (NNID: NintendoTom)
Source: Miiverse.

— Amy (NNID: NintendoAmy)
Source: Miiverse.
At NintendObserver, the comments are on Discord.
Click on Community to learn more. 🙂
…
…Wanna play? Buy a Wii U.
And if you've already got yours, here are all the games already available on the platform. 😀