The update is finished and now available.
☆ NintendObs Weekly – Monday, October 13, 2014 – Sunday, October 19, 2014.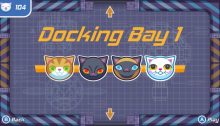 Hi Everyone. Rhod from Dakko Dakko here. Thanks for the continued support and comments about our game! I'm very glad to announce that the software update for Scram Kitty and his Buddy on Rails is finished and now available!

Just start the game (if your Wii U is connected to the internet) and it should update automatically. You can check you have the latest version (v1.1) by looking at the TV screen when the game starts. v1.1 is displayed in the corner of the updated version.

I hope you enjoy the tweaks and refinements introduced in this update. Almost every stage has been slightly re-balanced, and the double-jump is easier to execute (and more powerful than ever!). Mice behave slightly differently, and for the perfectionists amongst you, the game will now display a special ribbon on each stage where you have saved ALL available cats in one go! There are many little tweaks to make the game even more fun, so I look forward to hearing your thoughts.

Thanks again for playing Scram Kitty and his Buddy on Rails. Enjoy the update!

— Rhod (NNID: DD_Rhod)
Source: Miiverse.
At NintendObserver, the comments are on Discord.
Click on Community to learn more. 🙂
…
…Wanna play? Buy a Wii U.
And if you've already got yours, click on Scram Kitty and His Buddy on Rails for everything you need to know about the game. 😀