"Thank you again for your comment."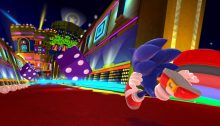 Question:

After a PTA meeting the other day, someone told me that they wished the size of the screen of Nintendo's current handheld device could have been manually extended to become twice the size both horizontally and vertically. It would be more impressive to children playing with it and reduce their parents' concerns about the impact on their eyes. In addition, the Japanese government is planning to have special zones for casinos for the Tokyo Olympic Games in 2020, but it is said that many people are unfamiliar with casino games. I think it a good idea to create an application in which users can learn how to play and practice these games.
Answer:

Takeda:

Many thanks for your useful proposals. Our development team always discusses various things, including the best screen size for children and screens that people dream about, such as the enlargeable one you just mentioned.

Apart from casino application games, we think it is possible to take advantage of our strength of offering things to consumers in an easy-to-understand and approachable manner in a variety of fields. Thank you again for your comment.

— The 74th Annual General Meeting of Shareholders
Source: Nintendo JP.
At NintendObserver, the comments are on Discord.
Click on Community to learn more. 🙂
…
…Wanna play? Buy a Wii U.
And if you've already got yours, here are all the games already available on the platform. 😀