Crash Team Racing Nitro-Fueled, Citizens of Space, My Friend Pedro, Realm Royale.

☆ NintendObs Weekly – Monday, June 17, 2019 – Sunday, June 23, 2019.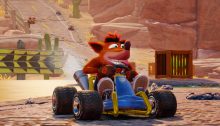 Click here for North America.
Weekly download news

Crash™ Team Racing Nitro-Fueled and 28 more games released this week.

Version française ici : Les téléchargements de la semaine. 😉

21/06/2019

Download Versions Of Packaged Software

Another Sight

Nintendo Switch

A teenager who has lost her sight and a mysterious cat team up in a surreal fantasy adventure into the unexpected.

Crash™ Team Racing Nitro-Fueled

Nintendo Switch

Crash is back in the driver's seat!

Nintendo Switch Download Software

Arcade Archives WILD WESTERN

It's time for the sheriff to get on his horse and race across the wild western frontier to take down the outlaws!

Blade II – The Return Of Evil

The evil has returned! Join the fight once and for all!

Boxing Champs

Step into the ring and become a boxing champ!

Captain Cat

Navigating the depths of unknown waters is never easy.

Citizens of Space

Recruit citizens, navigate the cosmos, and battle charismatic foes in Citizens of Space!

Cybarian: The Time Traveling Warrior

Get the Sword of Ages, travel to the future and try to live long enough to brag about it!

Driving School Original

Become the best driver in the world, improve your driving skills!

Duke of Defense

Build your towers, upgrade your skills, and slash more goblins than any Duke before.

Forest Home

Something's gone wrong in the forest! All the animals are lost, and only you can guide them home.

Home Escape

Hey, are you having a good day?

Mainlining

A cybercrime hacking thriller that mixes dark and dry humour with a gripping narrative.

Miner Warfare

WARNING: excessive use can destroy friendship!

Muse Dash

Our world score has been tampered. Can you hear my whispering? Now Game Start!!

My Friend Pedro

My Friend Pedro is a tale of friendship, imagination and one man's struggle to obliterate anyone in his path at the behest of a sentient banana.

Queen's Quest 3: The End of Dawn

Become a true alchemist!

Realm Royale

Can you defeat up to 99 players to claim the Crown Royale in this hit fantasy Battle Royale?

Rolling Gunner

March 18th, 2061 – "Operation Downfall" Commences.

SCRAP

SCRAP is a unique platformer in which you can't stop moving. The remedy to that is jumping.

SCRAP RUSH!!

Robots compete by gathering junk in this crazy battle! Use blocks and crush your foes!

Sea King

Fast-paced naval combat party game.

Secret Files 2: Puritas Cordis

A dramatic race against time begins.

Slender: The Arrival

You're on your own. No one to come for you. No one to help you. No one to hear you scream.

The Childs Sight

Discover lost moments through the eyes of a baby, as you explore what remains in the attic.

Word Mesh

Word Mesh – a word search game.

ZOMB

How long will you survive?

Nintendo Switch Downloadable Content

Catan

Build settlements, roads and cities strategically to gain supremacy in Catan for Nintendo Switch!

Gear.Club Unlimited 2

No more borders. Drive with freedom!

Pic-a-Pix Deluxe

Pic-a-Pix is bigger and better than ever!

Nintendo Switch Demos

Desktop Table Tennis

Clear your desk for an all new way to play ping-pong! Settle the score with a Rainbow Smash!

Iris School of Wizardry -Vinculum Hearts-

Secrets that can't be solved by magic.

Kitty Love -Way to look for love-

Human by day, cat by night…

Professor Lupo and his Horrible Pets

Become the most epic intern of all times (or at least save your own neck), in this frantic puzzle-adventure game!

Rain City

SCRAP RUSH!!

Robots compete by gathering junk in this crazy battle! Use blocks and crush your foes!

Super Kickers League

The best alternative to conventional football games is here!

Special offers

See the wide range of titles on offer on Nintendo Switch this week.

Check out all of the games on sale on Nintendo 3DS family systems and Wii U this week below:

3D MahJongg (Nintendo 3DS)

Big Bass Arcade: No Limit (Nintendo 3DS)

Coaster Creator 3D (Nintendo 3DS)

Cube Creator 3D (Nintendo 3DS)

Lovely Planet (Wii U)

Murder on the Titanic (Nintendo 3DS)

Punch Club (Nintendo 3DS)

RTO 2 (Wii U)

RTO 3 (New Nintendo 3DS)

Safari Quest (Nintendo 3DS)

Star Splash: Shattered Star (Wii U)

Triple Breakout (Nintendo 3DS)

Urban Trial Freestyle 2 (Nintendo 3DS)

URBAN TRIAL FREESTYLE™ (Nintendo 3DS)

Nintendo 3DS HOME Menu themes

Check out the latest Nintendo 3DS HOME Menu themes at our New Releases page. HOME Menu themes are available to download from the Theme Shop on your system, and new themes are added regularly.

— Nintendo UK News
Source: Nintendo UK.
 Click here for last week's European eShop Downloads.
At NintendObserver, the comments are on Discord.
Click on Community to learn more. 🙂
…
…Wanna play? Buy a Switch.
And if you've already got yours, here are all the games already available on the platform. 😀