Marina should have won.

☆ NintendObs Weekly – Monday, July 15, 2019 – Sunday, July 21, 2019.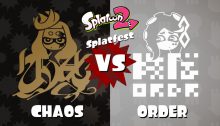 07.17.19

The Splatocalypse is nearly upon us!

All the warnings signs have been there, fellow researchers. And by "warning signs," I actually mean "news articles on your news feed."

This weekend brings the final Splatfest for the Splatoon™ 2 game. This in-game event will be held for 72 hours from July 18th at 5 a.m. PT until July 21st at 5 a.m. PT. It also asks a life-changing question: What world would you choose? Chaos or Order?

And dear researchers, I have to say that this is a bit emotional for me—after all, Splatfests have been coming to the game for two whole years. But with all that said, both my team and I would like to thank you for all your amazing support! We hope you continue to play and enjoy your time with Splatoon 2 well after the Splatfests are done. We couldn't ask for better researchers.

If you would like to participate in the Splatfest, please start up the game and choose a side. And if you want more info on the game, including info on how to buy the digital version, please visit https://splatoon.nintendo.com.

— Nintendo What's New
Source: Nintendo.
At NintendObserver, the comments are on Discord.
Click on Community to learn more. 🙂
…
…Wanna play? Buy a Switch.
And if you've already got yours, click on Splatoon 2 for everything you need to know about the game. 😀