Comme à l'E3.

☆ Gazette NintendObs – lundi 24 juin 2019 – dimanche 30 juin 2019.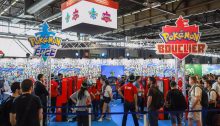 Nintendo dévoile son line-up à Japan Expo : Pokémon Épée & Pokémon Bouclier, Luigi's Mansion 3 et The Legend of Zelda: Link's Awakening seront jouables sur le salon.

Titres éditeurs tiers, indépendants ou Nintendo : découvrez les jeux du stand Nintendo dont certains jouables par le public Français pour la première fois à Japan Expo 2019 !

26/06/2019

26 Juin 2019 – Les visiteurs de Japan Expo ont la chance de pouvoir s'essayer à des titres aussi variés qu'attendus cette année sur le stand Nintendo.

Outre les nombreux jeux éditeurs tiers et indépendants jouables, le stand Nintendo (Hall 6 n° B674) est l'occasion de parcourir l'arène de l'Eau et de s'initier au phénomène Dynamax dans Pokémon Épée et Pokémon Bouclier, de parcourir une partie de l'hôtel hanté de Luigi's Mansion 3, mais aussi de découvrir ou de redécouvrir l'aventure insulaire et onirique The Legend of Zelda : Link's Awakening. Japan Expo se tient du 04 au 07 juillet au Parc des Expositions de Paris-Nord Villepinte.

Découvrez ci-dessous certains des jeux jouables sur le stand Nintendo :

A Hat in Time
Sayonara Wild Hearts
Disney TSUM TSUM Festival
A.O.T. 2 Final Battle
Resident Evil 5

Venez nombreux sur le stand Nintendo, prendre en main les jeux listés ci-dessus et prendre part aux tournois quotidiens* organisés sur cet espace (Mario Kart 8 Deluxe, Super Smash Bros. Ultimate et Splatoon 2).

— Nintendo France News
Source : Nintendo FR.
Chez NintendObserver, les commentaires sont sur Discord.
Cliquez sur Community pour en savoir plus. 🙂
…
…C'est pour jouer ? Achetez une Switch.
Et si vous l'avez déjà, ici se trouvent tous les jeux déjà disponibles sur la console. 😀