Il fallait que je mette en avant cette photo avec les t-shirts de la Final Fest.

☆ Gazette NintendObs – lundi 8 juillet 2019 – dimanche 14 juillet 2019.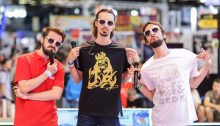 Japan Expo 2019 : clap de fin !

CLAP de fin de cette Japan Expo pour le stand Nintendo !

08/07/2019

Un grand merci à tous d'être venus nous rendre visite sur le stand Nintendo à la Japan Expo durant ces 4 jours intenses.

Le stand Nintendo a cette fois encore été l'occasion de découvrir de nouveaux et très attendus titres, tels que le phénomène Dynamax dans Pokémon Épée et Pokémon Bouclier, parcourir l'hôtel hanté de Luigi's Mansion 3, et l'île mystérieuse de The Legend of Zelda : Link's Awakening.

Nous avons pu constater l'extraordinaire engouement porté aux tournois organisés quotidiennement sur notre espace (Mario Kart 8 Deluxe, Super Smash Bros. Ultimate et Splatoon 2).

Encore merci à vous et aux équipes pour l'ambiance, la chaleur et la bonne humeur sur notre stand.

À bientôt !

— Nintendo France News
Source : Nintendo FR.
Chez NintendObserver, les commentaires sont sur Discord.
Cliquez sur Community pour en savoir plus. 🙂
…
…C'est pour jouer ? Achetez une Switch.
Et si vous l'avez déjà, ici se trouvent tous les jeux déjà disponibles sur la console. 😀