OK. No matter what, this stage will forever be known within the community as DEAR SENPAI.

☆ NintendObs Weekly – Monday, June 17, 2019 – Sunday, June 23, 2019.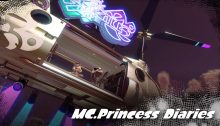 We're receiving reports that the final Shifty Station stage in Splatoon 2 will be titled MC.Princess Diaries! We also have unconfirmed reports that the stage might feature an in person appearance from Pearl and Marina themselves…

Additionally, with over 20 returning Shifty Stations in the rotation for the Final Splatfest, we've been given a look at the schedule for the Final Splatfest: Sets of the existing Shifty Stations from past Splatfests will appear in 2-hour rotations during the first 48 hours, and during the last 24 hours, the new Shifty Station for this Final Splatfest, MC.Princess Diaries, will appear. Mark your calimari-endars accordingly!

Here's a list of the previous Shifty Station stages for your records:

— Squid Research Lab
Source: Splatoon's Tumblr.
At NintendObserver, the comments are on Discord.
Click on Community to learn more. 🙂
…
…Wanna play? Buy a Switch.
And if you've already got yours, click on Splatoon 2 for everything you need to know about the game. 😀