They're already sold out.

☆ NintendObs Weekly – Monday, July 8, 2019 – Sunday, July 14, 2019.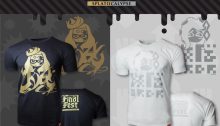 The Team Chaos and Team Order Final Splatfest T-shirts are now available for purchase in the real, human world too! Head over to store.nintendo.com today and pick your side. So, which team will it be for you? Chaos or Order?

— Squid Research Lab
Source: Splatoon's Tumblr.
At NintendObserver, the comments are on Discord.
Click on Community to learn more. 🙂
…
…Wanna play? Buy a Switch.
And if you've already got yours, click on Splatoon 2 for everything you need to know about the game. 😀