Salmonids are Team Chaos. Don't vote with them.

☆ NintendObs Weekly – Monday, July 1, 2019 – Sunday, July 7, 2019.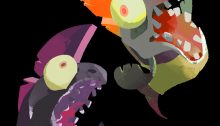 Salmonids: Team Chaos

Their single-minded drive to get back to their spawning grounds COULD be seen as orderly…if you squint. But who are we kidding? The frenzied, indiscriminate way they stampede over everyone and everything in the way of that goal is chaos to a T.

— Squid Research Lab
Source: Splatoon's Tumblr.
At NintendObserver, the comments are on Discord.
Click on Community to learn more. 🙂
…
…Wanna play? Buy a Switch.
And if you've already got yours, click on Splatoon 2 for everything you need to know about the game. 😀