That moment when you find yourself having to vote with the Telephone…

☆ NintendObs Weekly – Monday, July 8, 2019 – Sunday, July 14, 2019.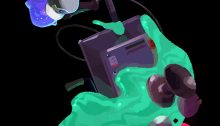 Telephone & C.Q. Cumber: Team Order

"These failed prototypes, endlessly warring for turf…" If we assume that chaos already reigns and that order needs to be restored, who decides what "order" actually looks like? These two likely have their own opinions on that subject, and they probably don't include the words "free" or "will."

— Squid Research Lab
Source: Splatoon's Tumblr.
At NintendObserver, the comments are on Discord.
Click on Community to learn more. 🙂
…
…Wanna play? Buy a Switch.
And if you've already got yours, click on Splatoon 2 for everything you need to know about the game. 😀