Spyke rides with Team Chaos.

☆ NintendObs Weekly – Monday, July 1, 2019 – Sunday, July 7, 2019.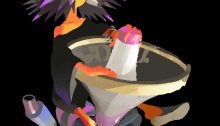 Spyke: Team Chaos

"Oi, mate. You really fink this festival's gunna decide the fate of the world, then?" You've seen him in the café, fingers dancing across the keyboard of his laptop. Could those same fingers be pulling the strings of society? He may have found a way to exploit the peaceful order of Inkopolis, but make no mistake–at his core, Spyke is an agent of Chaos.

— Squid Research Lab
Source: Splatoon's Tumblr.
At NintendObserver, the comments are on Discord.
Click on Community to learn more. 🙂
…
…Wanna play? Buy a Switch.
And if you've already got yours, click on Splatoon 2 for everything you need to know about the game. 😀