I gotta complain again about this. No Direct. Really. Xenoblade Chronicles 2 had one. Not even a long format series like Fire Emblem Fates or even Tokyo Mirage Sessions #FE. No. Just 3 two-minute long videos. Pretty much radio silence in the West on actual gameplay. For the first HD mainline Fire Emblem. I find that insulting tbh.

☆ NintendObs Weekly – Monday, July 15, 2019 – Sunday, July 21, 2019.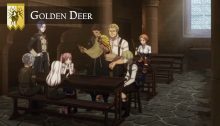 At NintendObserver, the comments are on Discord.
Click on Community to learn more. 🙂
…
…Wanna play? Buy a Switch.
And if you've already got yours, click on Fire Emblem Three Houses for everything you need to know about the game. 😀