Lapis x Labyrinth, PixARK, Brothers A Tale of Two Sons, Crystal Crisis, Gato Roboto.

☆ NintendObs Weekly – Monday, May 27, 2019 – Sunday, June 2, 2019.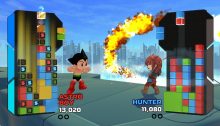 Click here for North America.
Weekly download news

Brothers: A Tale of Two Sons and 32 more games released this week.

Version française ici : Les téléchargements de la semaine. 😉

31/05/2019

Download Versions Of Packaged Software

Among the Sleep – Enhanced Edition

Nintendo Switch

Play as a defenseless toddler, roaming around the house to find your missing mom.

Animated Jigsaws Collection

Nintendo Switch

Complete moving jigsaw puzzles alone or team up with friends and finish them together!

FUN! FUN! Animal Park

Nintendo Switch

Animal fun for the whole family!

Kotodama: The 7 Mysteries of Fujisawa

Nintendo Switch

Everyone has a secret. Everybody has a dark side.

Lapis x Labyrinth

Nintendo Switch

Plunge into the mysterious Labyrinth!

Little Friends: Dogs & Cats

Nintendo Switch

It's time to meet your new Little Friends!

PixARK

Nintendo Switch

Welcome to PixARK, a vast, wild world filled with vicious dinosaurs, magical creatures and endless adventure!

Nintendo Switch Download Software

30-in-1 Game Collection: Volume 2

30 new fun games to play solo or with friends!

Ages of Mages: The Last Keeper

Take the princess back!

Anarcute

Anarcute is the cutest riot game, with a catchy art direction and unique crowd-beat'em all gameplay!

Arcade Archives ALPINE SKI

Enjoy the ski slopes, slalom, and ski jump in this diverse winter wonderland!

Brothers: A Tale of Two Sons

Two brothers. One epic adventure.

Chime Sharp

Place pieces, paint the board, make music.

Cricket 19

Earn World Glory At The Pinnacle Of Cricket!

Crypt of the Serpent King

A medieval first-person hack'n'slash dungeon crawler with roguelike elements.

Crystal Crisis

It's the ultimate puzzle battle throwdown!

Desktop Table Tennis

Clear your desk for an all new way to play ping-pong! Settle the score with a Rainbow Smash!

Gato Roboto

Adventure awaits the most curious of cats!

Geki Yaba Runner Anniversary Edition

Turn into a raging force of destruction or a super speedy gnome to overcome Geki Yaba's ultimate challenge. Do you have what it takes to save the princess in peril?

GoFishing 3D

Pack your baits, fishing rod and get on the boat!

Golem Gates

Wield The Ash. Guard The Gates.

Happy Words

Score high points and defeat your friends.

Monkey Business

Jump, climb and fight with strange creatures.

Ragtag Adventurers

A boss rush game that pits 4 heroes against terrible monsters.

Robot Squad Simulator

Become an elite pilot of special Robot Squad. Use specialized, remotely controlled robots, which you will control yourself.

Season Match 2

Unravel the mystery of the ice conspiracy and bring seasons back! The fairytale kingdom relies on you!

Selma and the Wisp

Selma and the Wisp is an astonishing platform game with a particularly eerie feel to it

Super Arcade Soccer

Classic Football is back with Super Arcade Soccer.

TerraTech

Explore, build, craft and battle across alien worlds in this physics-based construction sandbox adventure.

Vectronom

A hypnotic video game about music, geometry and flow.

Warlock's Tower

When a Warlock threatens the safety of the entire world, salvation must come by mail!

Watermelon Party

Walk across the map and collect all the watermelons.

Nintendo Switch Downloadable Content

Pinball FX3

Pinball FX3 is the biggest, most community focused pinball game ever created.

Super Cane Magic ZERO

Gear up, eat rocks, throw banana-boomerangs and fight a Giant Potato!

WorldNeverland – Elnea Kingdom

This kingdom welcomes immigrants from any country. Let's live in this kingdom! Enjoy a free life with love and adventure. Quests, battles, item gathering, harvest, love, marriage, even raising children. An easy-going, relaxed play experience. Real life takes on new meaning.

Nintendo Switch Demos

Assault On Metaltron

Get ready to defend your metallic planet from human and orc invaders!

Hob: The Definitive Edition

A world of mystery and intrigue awaits.

The World Next Door

Follow Jun, a rebellious teen girl trapped in a parallel world inhabited by magical creatures in The World Next Door for Nintendo Switch.

Nintendo 3DS Download Software

Timberman

Bigger. Better. MORE CHOPS!

Special offers

See the wide range of titles on offer on Nintendo Switch this week.

Check out all of the games on sale on Nintendo 3DS family systems and Wii U this week below:

Alchemic Dungeons (Nintendo 3DS)

Aqua Moto Racing 3D (Nintendo 3DS)

AZADA (Nintendo 3DS)

Breakout Defense 2 (New Nintendo 3DS)

Drancia Saga (Nintendo 3DS)

Hidden Expedition® Titanic (Nintendo 3DS)

Jewel Quest The Sapphire Dragon (Nintendo 3DS)

Jewel Quest 4 – Heritage (Nintendo 3DS)

Jewel Quest Mysteries 3 – The Seventh Gate (Nintendo 3DS)

Johnny's Payday Panic (Nintendo 3DS)

Kingdom's Item Shop (Nintendo 3DS)

The Legend of Dark Witch 2 (Nintendo 3DS)

The Legend of Dark Witch 3 Wisdom and Lunacy (Nintendo 3DS)

Luxor (Nintendo 3DS)

Mystery Case Files: Dire Grove (Nintendo 3DS)

Mystery Case Files: Ravenhearst (Nintendo 3DS)

Mystery Case Files: Return to Ravenhearst (Nintendo 3DS)

Of Mice And Sand (Nintendo 3DS)

Secret Mysteries in London (Nintendo 3DS)

Squareboy vs Bullies: Arena Edition (Nintendo 3DS)

Twin Robots (WII U)

Nintendo 3DS HOME Menu themes

Check out the latest Nintendo 3DS HOME Menu themes at our New Releases page. HOME Menu themes are available to download from the Theme Shop on your system, and new themes are added regularly.

— Nintendo UK News
Source: Nintendo UK.
 Click here for last week's European eShop Downloads.
At NintendObserver, the comments are on Discord.
Click on Community to learn more. 🙂
…
…Wanna play? Buy a Switch.
And if you've already got yours, here are all the games already available on the platform. 😀