Slay the Spire, Fathers' Day My Nintendo rewards.

☆ NintendObs Weekly – Monday, June 3, 2019 – Sunday, June 9, 2019.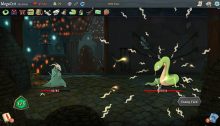 Click here for Europe.
NINTENDO DOWNLOAD HIGHLIGHTS NEW DIGITAL CONTENT FOR NINTENDO SYSTEMS – JUN. 6, 2019

This week's Nintendo Download includes the following featured content:

Nintendo eShop on Nintendo Switch

Slay the Spire – The Slay the Spire game fuses card games and roguelikes to make a dynamic single-player deck-builder. Discover hundreds of cards to add to your deck with each attempt at climbing the Spire. Select cards that work together to efficiently dispatch foes and reach the top. Whenever you embark on a journey up the Spire, the layout differs each time. Choose a risky or safe path, face different enemies, choose different cards, discover different relics and even fight different bosses. Craft a unique deck, encounter bizarre creatures, discover relics of immense power and Slay the Spire!

Nintendo eShop sales

Nintendo eShop on Nintendo Switch, Nintendo 3DS and Wii U

Great deals this week! Check out the full list of deals available this week at http://www.nintendo.com/games/sales-and-deals.

Activities

Happy Fathers' Day! – Celebrate Father's Day with great June rewards from My Nintendo, including fun printable gifts for dad. Click here for more information: https://my.nintendo.com/news/e66276a9b1b967b9

Also new this week in Nintendo eShop on Nintendo Switch

Arcade Archives ALPINE SKI

Artifact Adventure Gaiden DX

Battle Worlds: Kronos – Available June 11

Bullet Battle: Evolution

Car Mayhem

Desktop Baseball

Dyna Bomb

Fat City

Geki Yaba Runner Anniversary Edition

Hue

Legend of the Tetrarchs

Neon Junctions – Available June 7

Phantom Doctrine

PICO PARK – Available June 8

Refunct – Available June 7

Season Match 2

She and the Light Bearer

Summer Sports Games

Super Skelemania

The Savior's Gang

The Sushi Spinnery

Toon War

Warlocks 2: God Slayers – Available June 7

Word Wheel by POWGI

Source: Business Wire.
Click here for last week's North American eShop Downloads.
At NintendObserver, the comments are on Discord.
Click on Community to learn more. 🙂
…
…Wanna play? Buy a Switch.
And if you've already got yours, here are all the games already available on the platform. 😀