The Rotom Phone can make your bike move faster and even travel over water.

☆ NintendObs Event – Pokémon Direct 6.5.2019.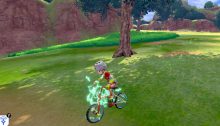 About the Pokédex and Rotom Phone

Any Pokémon that you find or catch during your adventure will have its information registered in the Pokédex. The Pokédex in these titles will actually be part of your Rotom Phone! Your Rotom Phone is also home to Rotom, a Pokémon that can enter into various electric appliances. And your Rotom Phone can do a lot more than serve as a Pokédex!

For example, you can attach it to your bike to make it move faster on land, or it can even help you travel over water!

Source: Pokémon Sword Shield.
Ici en français : Le Pokédex et le Motismart. 😉
At NintendObserver, the comments are on Discord.
Click on Community to learn more. 🙂
…
And if you've already got yours, click on Pokémon Sword & Shield for everything you need to know about the games. 😀