I would have recommended Hyrule Warriors but its multiplayer feature is only on Wii U.

☆ NintendObs Weekly – Monday, June 3, 2019 – Sunday, June 9, 2019.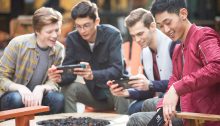 06.07.19

School's almost out and summer break is almost here! Gather a few friends and unwind with these multiplayer* games, or you can challenge your dad to see who's the greatest gamer of all—just take it easy on him, OK?

Speaking of dads, you can visit Play Nintendo to download and print a Father's Day card inspired by the fiery father-son duo of Bowser and Bowser Jr. You can even share with him this special Father's Day message from Nintendo.

— Nintendo What's New
Source: Nintendo.
At NintendObserver, the comments are on Discord.
Click on Community to learn more. 🙂
…
…Wanna play? Buy a Switch.
And if you've already got yours, here are all the games already available on the platform. 😀