The Time Travel vs. Teleportation Splatfest is up this weekend, May 17-18.

☆ NintendObs Weekly – Monday, May 6, 2019 – Sunday, May 12, 2019.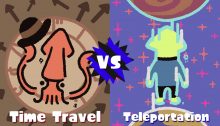 The latest Splatfest approaches, and this time, it's theoretical! Which superpower would you rather have? Would you rather break the clock with Team Time Travel, or take an instant trip anywhere with Team Teleportation?

The research team have taken some time to weigh these highly illogical options, but we haven't been able to determine a winner. Looks like it's up to you!

The Splatfest gets started 5/17 9:00pm PT, and runs until 5/18 9:00pm PT.

— Squid Research Lab
Source: Splatoon's Tumblr.
At NintendObserver, the comments are on Discord.
Click on Community to learn more. 🙂
…
…Wanna play? Buy a Switch.
And if you've already got yours, click on Splatoon 2 for everything you need to know about the game. 😀