Hellblade, Out There, Phoenix Wright Ace Attorney Trilogy, Reigns Game of Thrones.

☆ NintendObs Weekly – Monday, April 8, 2019 – Sunday, April 14, 2019.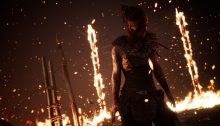 Click here for North America.
Weekly download news

Phoenix Wright: Ace Attorney Trilogy and 26 more games released this week.

Version française ici : Les téléchargements de la semaine. 😉

12/04/2019

Nintendo eShop sale: Blockbuster Sale

Save up to 60% on a selection of Nintendo Switch and Nintendo 3DS titles in our Blockbuster Sale until April 25th!

Download Versions Of Packaged Software

Vaporum

Nintendo Switch

A grid-based dungeon crawler RPG in an original steampunk setting.

Windstorm – Ari's Arrival

Nintendo Switch

Ride through exciting adventures on Windstorm's back in this video game based on the new movie!

Nintendo Switch Download Software

A Dark Room

awake. head throbbing. vision blurry. come light the fire.

Arcade Archives TIME PILOT

Time travel from the past to the future! Defeat enemies while traveling in a full 360º range of motion!

Back to Bed

Guide Bob the sleepwalker to the safety of his bed by taking control of his subconscious guardian, Subob.

Bot Vice

Fast paced action-packed gallery shooter!

Box Align

Relax, have a peaceful moment and engage your brain!

Cook, Serve, Delicious! 2!!

Run your restaurant and pick up shifts in your quest to be the best chef in the world.

Doggie Ninja The Golden Mission

Doggie + Ninja = Doggie Ninja! Here they come!

Greco's Hall of Kanji Learn Japanese < Beginner >

Let's adventure through Greco's Hall of Kanji!

Hellblade: Senua's Sacrifice

A warrior's brutal journey into myth and madness.

Jungle Z

Jungle Z is a doomsday survival game.

Out There: Ω The Alliance

A dark and challenging strategic adventure in deep space.

Phoenix Wright: Ace Attorney Trilogy

Phoenix Wright's journey starts here.

Reigns: Game of Thrones

Decide the fate of Westeros and those that reside in your land.

Rolling Sky

Rolling Sky is a ball running game that combines rhythm and fun.

Shadowgate

Get ready brave adventurer, the Living Castle awaits!

Slime Tactics

Slimes, rise up! A unique real-time strategy has appeared!

Street Basketball

Enjoy the ultimate basketball experience!

Super Star Path

Classic color match puzzle meets space shoot'em up action!

Super Weekend Mode

Catch hearts, Crush bunnies and Shoot the bad guys.

Switch 'N' Shoot

Endless arcade action with just ONE button – switch directions whenever you shoot!

The Demon Crystal

Adventure into Monster Town and save Princess Chris!

The Mystery of Woolley Mountain

An otherworldly comedy adventure!

UNI

Two-player games of all genres in one!

War Theatre

Turn-based strategy with RPG elements. Take command of seven unique heroes, each with a specialization to change the course of every battle.

Way of the Passive Fist

Parry, Dodge, Dash and Counter-Attack to outwit and outlast your enemies on a desolate planet ruled by raiders, mutants and fanatical sun worshipers.

Nintendo Switch Downloadable Content

Fate/EXTELLA LINK

The latest game in the Fate series is here!

Nelke & the Legendary Alchemists ~Ateliers of the New World~

An Atelier 20th Anniversary Title.

Pic-a-Pix Deluxe

Pic-a-Pix is bigger and better than ever!

Taiko no Tatsujin: Drum'n'Fun!

Enjoy the cult classic arcade rhythm game from Japan!

Trials® Rising

Explore over-the-top action and physics-bending motorcycle racing.

Nintendo Switch Demos

Out There: Ω The Alliance

A dark and challenging strategic adventure in deep space.

Special offers

See the wide range of titles on offer on Nintendo Switch this week.

Check out all of the games on sale on Nintendo 3DS family systems and Wii U this week below:

99Moves (Wii U)

Abyss (Wii U)

Annihilation (Wii U)

Breakout Defense (Nintendo 3DS)

Collide-a-Ball (Nintendo 3DS)

Darts Up 3D (Nintendo 3DS)

Farming Simulator 18 (Nintendo 3DS)

Football Up 3D (Nintendo 3DS)

Grand Prix Rock 'N Racing (Wii U)

I.F.O (New Nintendo 3DS)

Infinity Runner (Wii U)

Ping Pong Trick Shot (Nintendo 3DS)

Rock 'N Racing Off Road (Wii U)

RTO 2 (Nintendo 3DS)

The Gem Collector (Wii U)

Nintendo 3DS HOME Menu themes

Check out the latest Nintendo 3DS HOME Menu themes at our New Releases page. HOME Menu themes are available to download from the Theme Shop on your system, and new themes are added regularly.

— Nintendo UK News
Source: Nintendo UK.
Click here for last week's European eShop Downloads.
At NintendObserver, the comments are on Discord.
Click on Community to learn more. 🙂
…
…Wanna play? Buy a Switch.
And if you've already got yours, here are all the games already available on the platform. 😀