The Liar Princess and the Blind Prince, Final Fantasy IX, OlliOlli Switch Stance, Tetris 99, Daemon X Machina limited-time demo, Yoshi's Crafted World demo.

☆ NintendObs Weekly – Monday, February 11, 2019 – Sunday, February 17, 2019.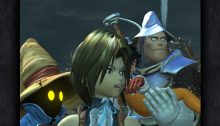 Click here for North America.
Weekly download news

FINAL FANTASY IX and 32 more games released this week.

Version française ici : Les téléchargements de la semaine. 😉

14/02/2019

Nintendo eShop sale: Play Together Sale

Discover a selection of different local multiplayer Nintendo Switch games with our Play Together Sale.

Download Versions Of Packaged Software

The Liar Princess and the Blind Prince

Nintendo Switch

My true self cannot be with you…

Nintendo Switch Download Software

Alchemic Dungeons DX

Blending rogue-like mechanics with item crafting, Alchemic Dungeons DX is a game of endless variety!

Alvastia Chronicles

RPG with over 100 companions?! Set out on an adventure in a retro-styled world!

Arcade Archives FRONT LINE

Make your way through the unforgiving battlefield and take out the enemy!

Astrology and Horoscopes Premium

An astrology, horoscope and numerology application.

Captain StarONE

Protect the universe from mysterious enemies and preserve peace in Captain StarONE!

Cinders

Break The Classic Fairy Tale!

Degrees of Separation

Learn about Ember and Rime, and the fate of their worlds.

Duck Hunting Challenge

Duck Hunt Challenge combines classic hunting game elements with engaging play modes to create a unique, fun hunting trip across the US.

Dungeon Stars

Dungeon Stars is a mix of hack 'n' slash, RPG and endless runner.

FINAL FANTASY IX

Selling over five million copies since its release in 2000, FINAL FANTASY IX proudly returns on Nintendo Switch!

Ghoulboy

Explore a magical realm of dungeons, towns, treasures and devious monsters.

The Golf

A fun and easy golf game.

Guess the Word

Create words from letters as fast as you can!

Hexa Maze

Exciting brain twisters for puzzle fans!

Iron Crypticle

Get ready for ghoulish arcade action in this epic medieval twin-stick dungeon shooter!

The King's Bird

Flight · Flow · Freedom.

LOVE

Set your own checkpoints in this challenging platformer.

Mindball Play

Roll your way to victory!

Minesweeper Genius

Help Aristotle sweep the minefield to regain his memory and escape from the aliens' scientific experiments.

Modern Combat Blackout

No soldier fights alone.

NEKOPARA Vol.2

Heartfelt Neko Comedy Open for Business!

Nice Slice

Cutting edge fun!

OlliOlli: Switch Stance

Mixing addictive one-life gameplay with over 120 tricks and grinds.

Pet Care

10 cute pets!

Space Lift Danger Panic!

Save people from imminent doom in this science-fiction, reaction-testing, hyper-arcade game!

Strikey Sisters

The Brick Breaker Adventure!

Tales of the Orient – The Rising Sun

Travel to the Edo period in Japan and help Satsu and Miyamoto in an epic adventure to preserve ancient Japan.

TETRIS® 99

TETRIS® 99 is a new take on the iconic puzzle game for Nintendo Switch! Can you best 98 other players online – all at the same time?!

Tokyo School Life

A heartwarming summer love story.

TOUHOU SKY ARENA -MATSURI- CLIMAX

Voices echo through the sky of Gensokyo, which will strengthen the girls for Fired-up Spell Battle Action!

Nintendo Switch Demos

Aperion Cyberstorm

The twin-stick bullet hell for 1-5 players! Three play modes of co-operative action and intense competition.

DAEMON X MACHINA

Strap yourself into a fully-customisable Arsenal and prepare for explosive, all-guns-blazing mech action in DAEMON X MACHINA, only on Nintendo Switch.

Mega Mall Story

Design a towering mega mall in this mall management simulation game.

Yoshi's Crafted World

Lead Yoshi on a brand new adventure that will turn everything you've come to expect from side-scrolling games upside down!

Nintendo Switch Downloadable Content

Alvastia Chronicles

RPG with over 100 companions?! Set out on an adventure in a retro-styled world!

Fate/EXTELLA: The Umbral Star

Experience lightning-fast battlefield action across an epic story!

Hand of Fate 2

Master a living boardgame where every stage of the adventure is drawn from a deck of legendary encounters chosen by you!

LEGO® DC Super-Villains

Embark on an all-new DC/LEGO® adventure by becoming the best villain the universe has seen!

Pic-a-Pix Pieces

Play alone or solve puzzles with friends!

Stellar Interface

Fight In Ever Changing Space Battles!

Taiko no Tatsujin: Drum'n'Fun!

Enjoy the cult classic arcade rhythm game from Japan!

Nintendo 3DS Download Software

Pinball Breaker

Play through 15 exciting levels as you aim for a high score.

Special offers

See the wide range of titles on offer on Nintendo Switch this week.

Check out all of the games on sale on Nintendo 3DS family systems and Wii U this week below:

99Moves (Wii U)

Abyss (Wii U)

Axiom Verge (Wii U)

Big Bass Arcade: No Limit (Nintendo 3DS)

Bit Dungeon+ (Wii U)

Breakout Defense (Nintendo 3DS)

Brunch Panic (Nintendo 3DS)

Coaster Creator 3D (Nintendo 3DS)

Collide-a-Ball (Nintendo 3DS)

Cube Creator 3D (Nintendo 3DS)

Darts Up 3D (Nintendo 3DS)

Drone Fight (Nintendo 3DS)

Fairune (Nintendo 3DS)

Football Up 3D (Nintendo 3DS)

Forest Escape (Wii U)

Grand Prix Rock 'N Racing (Wii U)

Ice Cream Surfer (Wii U)

KAMI (Nintendo 3DS)

Parking Star 3D (Nintendo 3DS)

Ping Pong Trick Shot (Nintendo 3DS)

Real Heroes: Firefighter 3D (Nintendo 3DS)

Rock 'N Racing Off Road (Wii U)

RTO 2 (Nintendo 3DS)

Six Sides of the World (Wii U)

Sweet Memories Blackjack (Nintendo 3DS)

Tachyon Project (Wii U)

Tappingo (Nintendo 3DS)

Tappingo 2 (Nintendo 3DS)

WAKEDAS (Nintendo 3DS)

Zombie Panic in Wonderland DX (Nintendo 3DS)

Nintendo 3DS HOME Menu themes

Check out the latest Nintendo 3DS HOME Menu themes at our New Releases page. HOME Menu themes are available to download from the Theme Shop on your system, and new themes are added regularly.

— Nintendo UK News
Source: Nintendo UK.
Click here for last week's European eShop Downloads.
At NintendObserver, the comments are on Discord.
Click on Community to learn more. 🙂
…
…Wanna play? Buy a Switch.
And if you've already got yours, here are all the games already available on the platform. 😀