And the most played Legends are…

☆ NintendObs Weekly – Monday, February 11, 2019 – Sunday, February 17, 2019.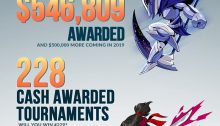 Brawlhalla Celebrates 20 Million Players With Fact-Filled Infographic

February 13, 2019

Brawlhalla, the free-to-play fighter developed by Ubisoft studio Blue Mammoth Games, has been a battleground for more than 20 million players since its 2015 launch. How many fights have unfolded in that span of time? How much cash has been awarded at Brawlhalla tournaments? And which Legends are picked most frequently? These questions and more are answered in the following infographic, which reveals some impressive stats.

If this inspires you to play, head over to www.brawlhalla.com/play to install the game, and check out their Valentine's Day-themed content at www.brawlhalla.com/patch.

Brawlhalla is available now on PC, PS4, Xbox One, and Nintendo Switch.

— Mikel Reparaz at Ubisoft
Source: Ubisoft News.
At NintendObserver, the comments are on Discord.
Click on Community to learn more. 🙂
…
…Wanna play? Buy a Switch.
And if you've already got yours, click on Brawlhalla for everything you need to know about the game. 😀